In September in northwestern Ontario, you often can feel the change of season in the air. Most noticeable are the much cooler and seemingly, longer nights. Flocks of geese fly overhead preparing to head south and many birches and poplars are beginning to turn yellow. As one would expect, most people who fish in Ontario's Sunset Country come in the late spring or summer, but the good news is that you can fish in all seasons and for many locals, fall is their favorite time.
The approach of fall also causes changes in the behavior of fish who seem to sense the approach of winter with many changing locations and putting on the feedbag! These changes in the lake increase the catch rate significantly and for those who have only visited in spring or summer, a fall fishing trip to Sunset Country should definitely be on your "bucket list".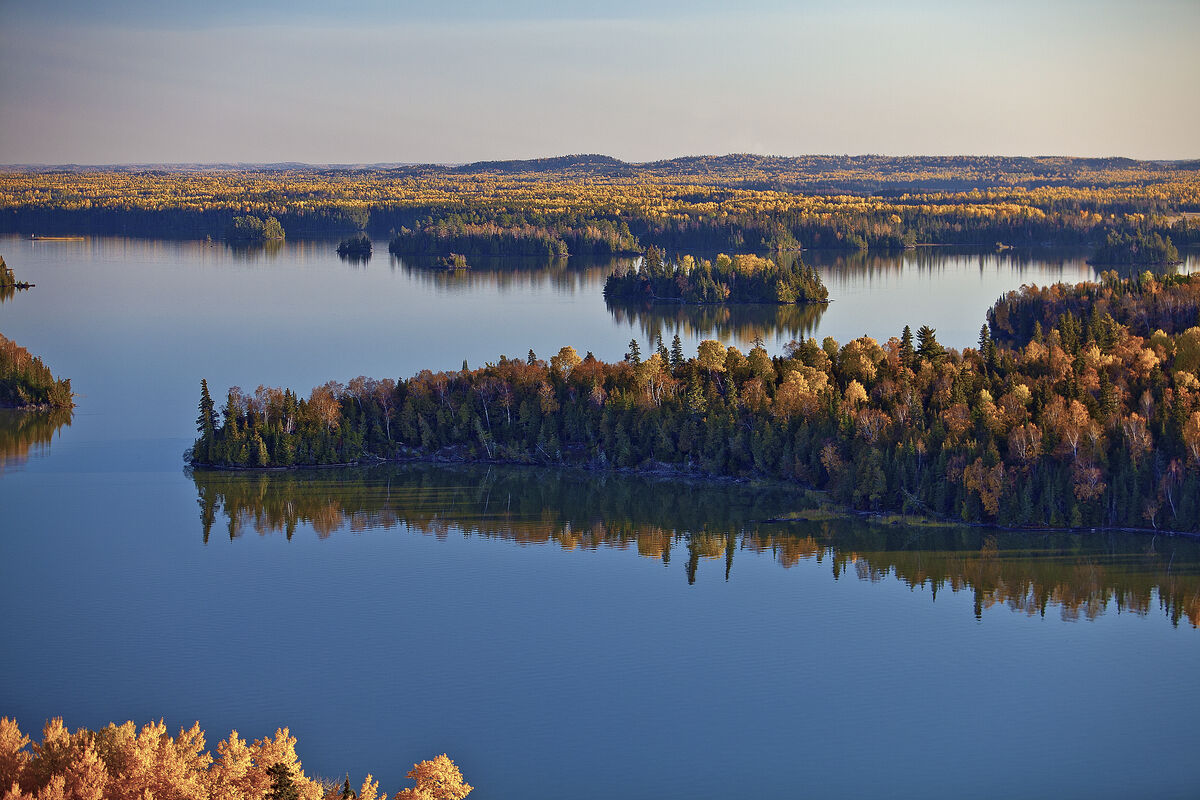 Thunder Bay photographer Kevin Palmer's magnificent aerial of Wabigoon Lake shown above is evidence of how beautiful the fall colour change really is, so that's another reason to love being out on the water. And while there are never crowds on any of the lakes up here, during our short fall season there are a lot fewer anglers, giving you a surreal feeling like you're the last person on the planet and you're out fishing.
Muskie: A big target in the fall is the mighty muskie, with fish up to and over 50" inches caught every year - many in the fall. Many visitors who love to fish for muskie do visit during September, October, and even into November. There are so many famous muskie lakes here - Eagle Lake, Lake of the Woods, and Lac Seul to name three.
But there are countless other lakes like Wabigoon, Manitou, Cedar, and the Indian Lake chain that attract these hardy fall anglers. The potential reward for braving the elements is well worth it. Go here for a full list of lakes in Ontario's Sunset Country or check out the lodges that offer muskie fishing.
Here's a good article by Gord Pyzer about fishing for muskies in the fall.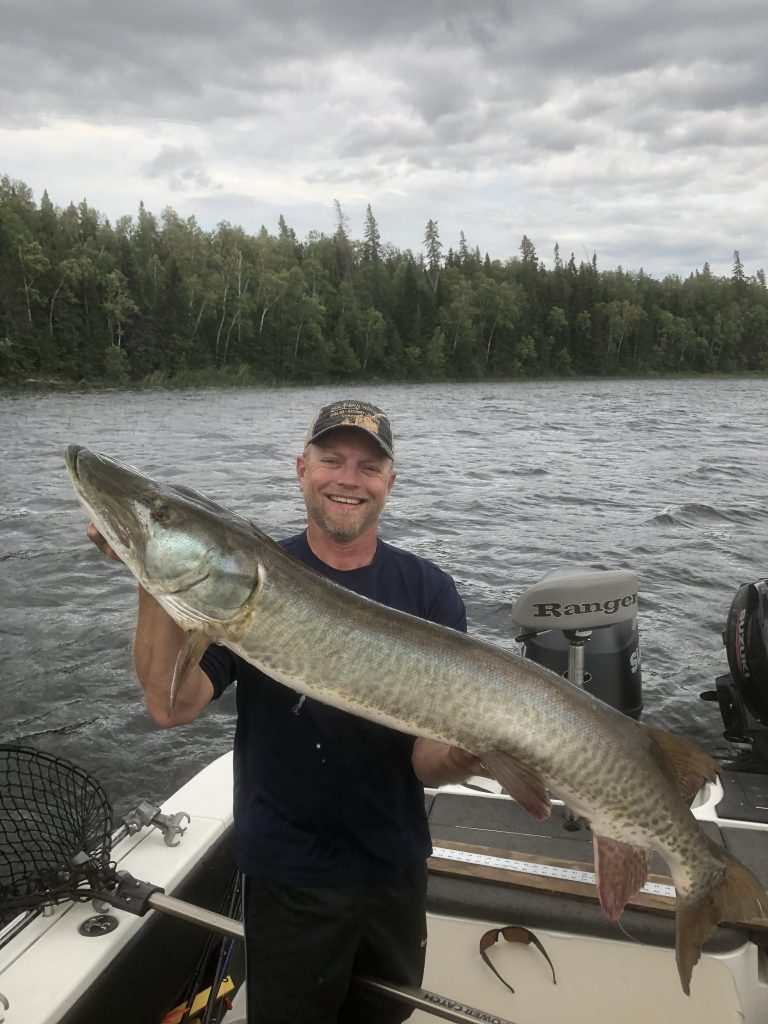 Walleye: For those who love to fish for walleye, the fall is prime time for fishing. These delicious fish are aggressive all year-round yet seem to turn it up a notch as the lake temperatures start to cool in September. Here's a good article by professional angler Gord Ellis that provides some tips for catching walleye in the fall. As Gord notes, using a "bottom bouncer" is a particularly effective method.
One thing about walleye that everyone looks forward to is the opportunity for shore lunch. Nothing like starting a campfire on an island and frying up fresh walleye just minutes after catching them. Not that you need any encouragement but here's an article that gives 5 reasons to go walleye fishing in Sunset Country!
Learn more about walleye fishing in Ontario's Sunset Country.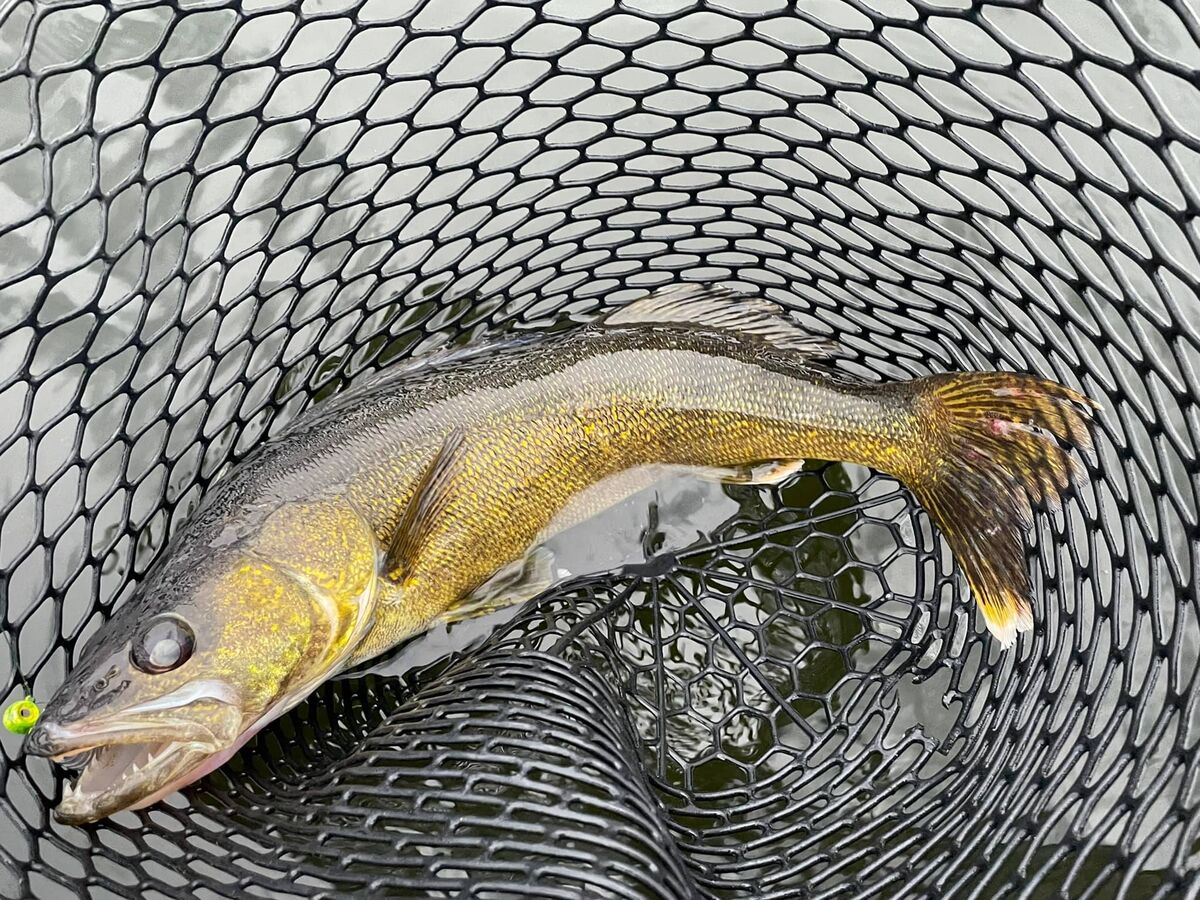 Northern Pike: Northern pike are voracious predators and the anglers who seek them know that right after ice-out and in the later part of fall just before the ice freezes are the best times of the year to catch them - especially the big ones. Gord Pyzer an angler who's very experienced fishing in Northwestern Ontario thinks just before freeze-up is the best time to catch these toothy critters. He suggests looking for them at what he calls "bus stops" - predictable pieces of structure they are often hanging out on waiting for unfortunate bait fish, and even walleye, to swim on by presenting an easy meal for this ambush predator.
Read Gord's article on fall northern pike fishing for tips and strategies. The smaller pike are also really good to eat in the fall. Here are some recipes for cooking northern pike we think you'll like.
Learn more about pike fishing in Sunset Country.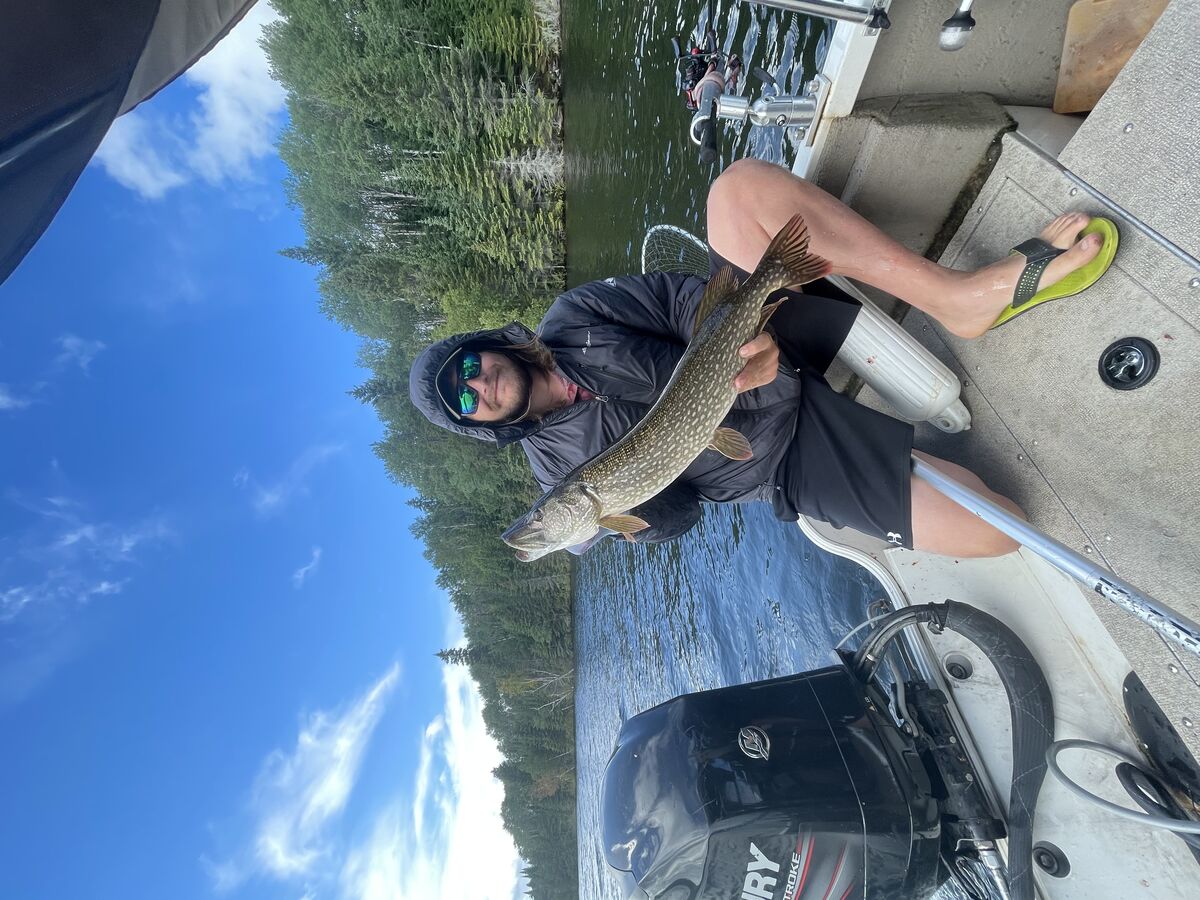 Smallmouth and Largemouth Bass: Pound for pound the best fighters in the lake, bass are plentiful across Sunset Country, especially the smallmouth. Jeff Gustafson, a Kenora-based angler and a pro on the Bassmaster Elite Angler Series circuit suggests a change in strategy once September arrives and the lake temps go down. He suggests looking deeper and Jeff often changes to jigging a tube jig in the fall. He says going deep is particularly important when a cold front moves in so keep that in mind if you're fishing for bass, especially smallmouth bass, in the fall.
As to largemouth, which is less prevalent but grows to a larger size in Sunset Country, Jeff likes to target them the same for most of the year and says he loves throwing a Senko to dead heads or along and in weed beds. Whenever you come here to fish for bass, you'll be happy to know they are cooperative fish and so expect to catch a lot of them during your trip. Linkers up to 6 pounds lurk in our waters.
Get all of Jeff Gustafson's bass fishing tips.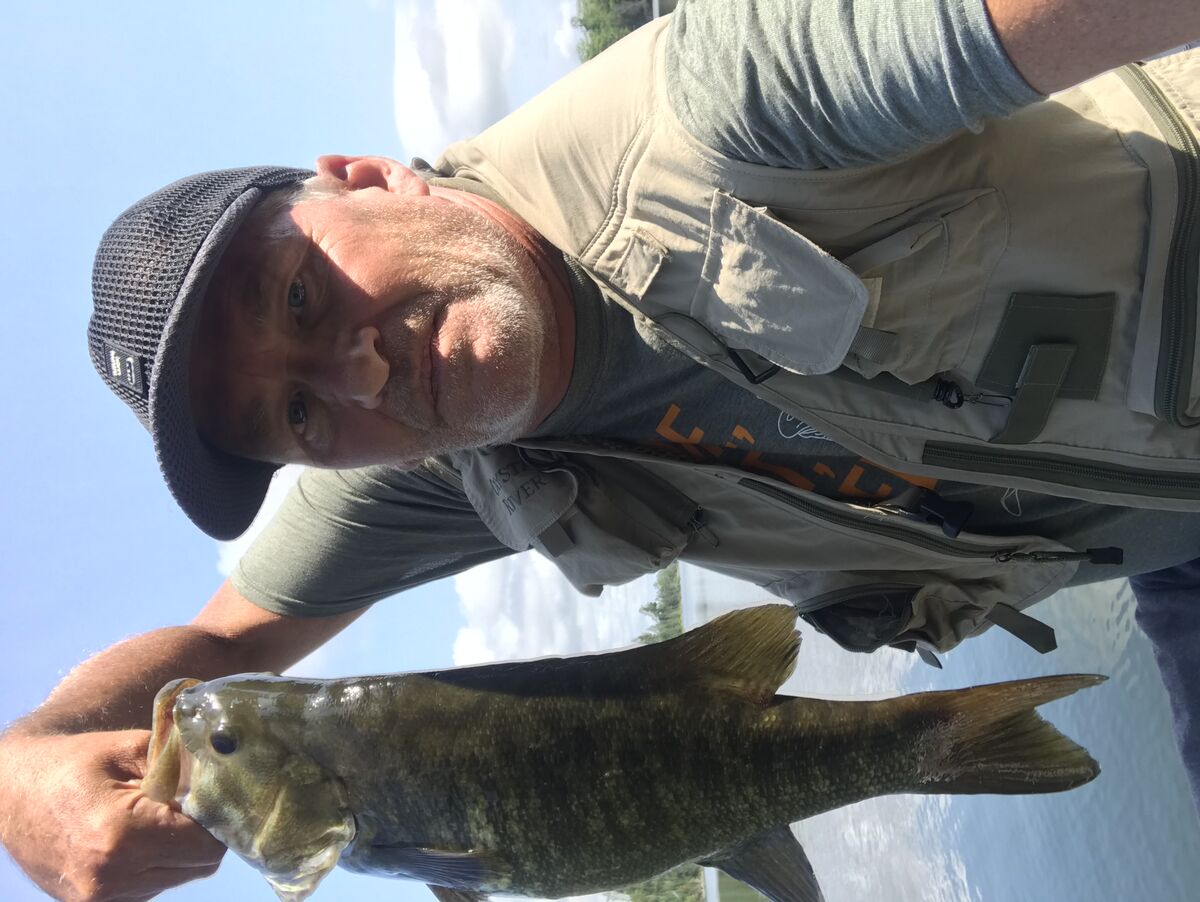 Lake Trout: With the season closing for lake trout at the end of September, that is the month you'll have to visit if they are your target species. The lakers are pretty active pre-spawn and they do come shallower if the water temps drop quickly. However, in September, it is more likely you'll still find them in their traditional spots, deep basins, between 60 and 100 feet down.
There are many good trout lures on the market so having a lot of flash in the deep water is definitely an advantage. Once September ends, you'll have to wait until January to target them again and that'll be through the ice.
We have great trout fishing in Ontario!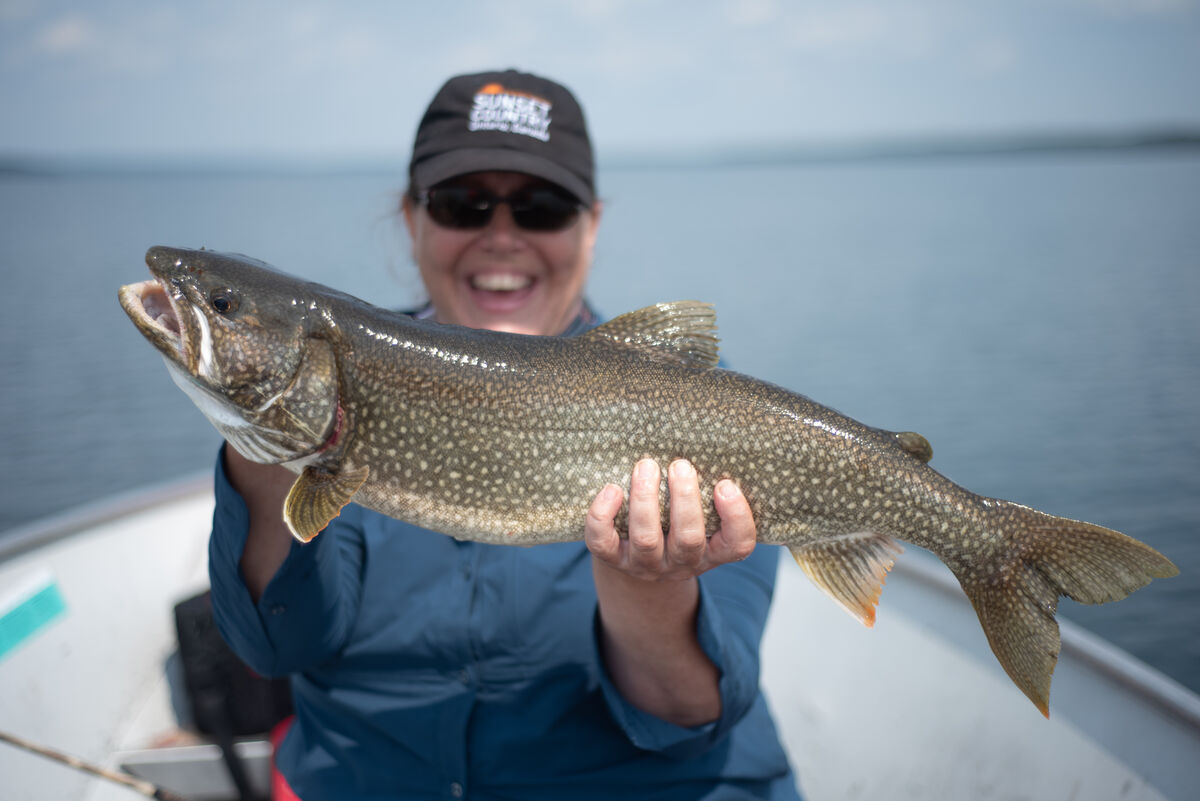 Black Crappie and Perch
Another culinary delicacy offered by our lakes is delicious panfish. Black crappie and perch are on the menu here and the fall months are an excellent time to catch them, especially crappie. As Gord Pyzer notes in this article on fall crappie fishing in Sunset Country, the fish start to pull away from shore and in the later fall, stage in deeper basins in large schools where they are relatively easy to catch.
Few fish taste as good as black crappie, they certainly give walleye a run for their money. Fall means once you find one of these schools and figure out what they like to eat, you'll have a good day of catching.
Learn more about fishing for black crappie in northwestern Ontario. We also have excellent perch fishing.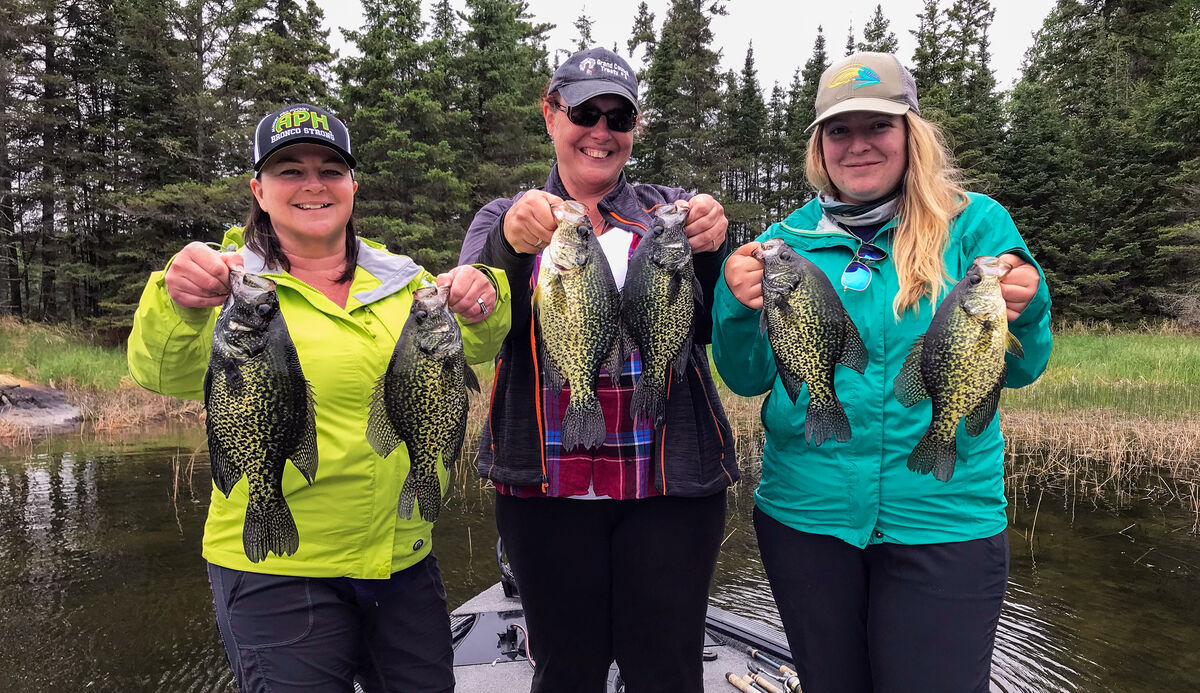 Start Planning Your Fall Trip Today
Ontario's Sunset Country Travel Association has a comprehensive website at visitsunsetcountry.com where you can find links to all the lodges that stay open through the fall. There's even an easy accommodation finder page where you can search by your interests.
We can also send you a copy of our free travel guide and fishing map through the mail.
If you love fishing and you love to fish in Canada, then a fall fishing trip to Ontario's Sunset Country should definitely be on your bucket list!