While some of the lodges and resort in Sunset Country stay open year-round, many open just from the Spring to Fall. The walleye season around here always opens the third Saturday in May, which is what locals call May Long Weekend (or May 24) as Monday after walleye opener is a statutory holiday. After waiting about a month or more after the ice has become too unstable to ice-fish on, anglers are chomping at the bit to go fishing. And for visitors, many have been waiting since their last trip to Canada last summer! This weekend usually is the kick-off to summer in Sunset Country.
The week was cooler than average, but we only had a few rainy days, so all in all, not a bad week!
Here's an update of how the fishing was since the opener at some of the lakes in Sunset Country.
Atikokan Area:
Jacob caught this 36" chunky northern pike at Indiaonta Resort on Clam Lake near Atikokan. It was walleye opener, but he looks pretty happy to be holding this pike!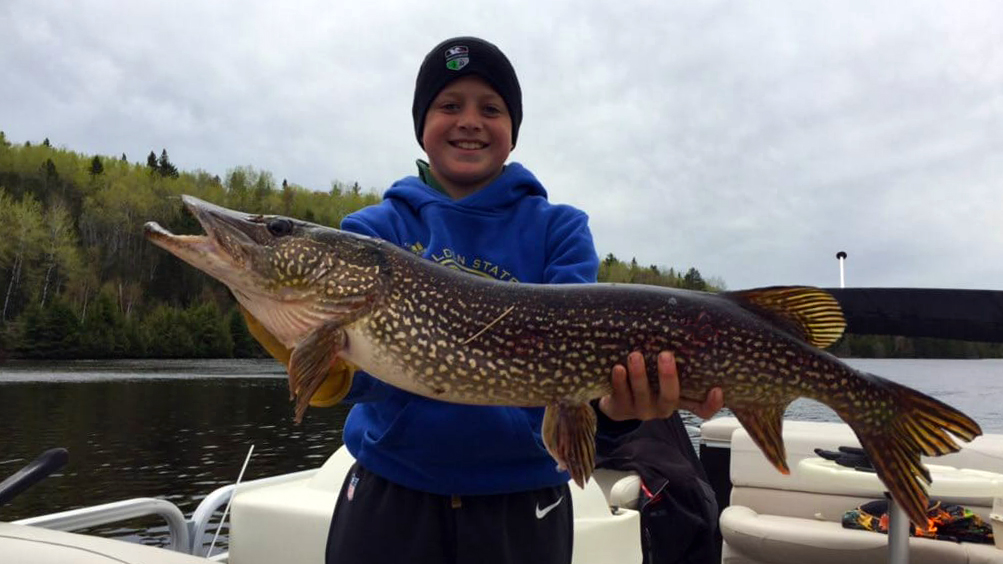 Dryden Area:
Silver Water Wheel Lodge, who are unique in their position as you access their lodge and Lac Seul from a road north of Dryden, states in their fishing report that even though the ice-out date was almost the same as last year, the number of fish caught was down. They did catch some big ones though! After the warmer temperatures this week, the numbers should pick up as well.

Ray Pridgeon Jr. 30.75 with his 30.75" Lac Seul Walleye caught at Silver Water Wheel.
Wabigoon Lake is known for great walleye and muskie fishing. While muskies are out of season until the third weekend of June, the walleyes caught at Bear Paw Landing were pretty big. There is also northern pike, bass and crappie that were biting.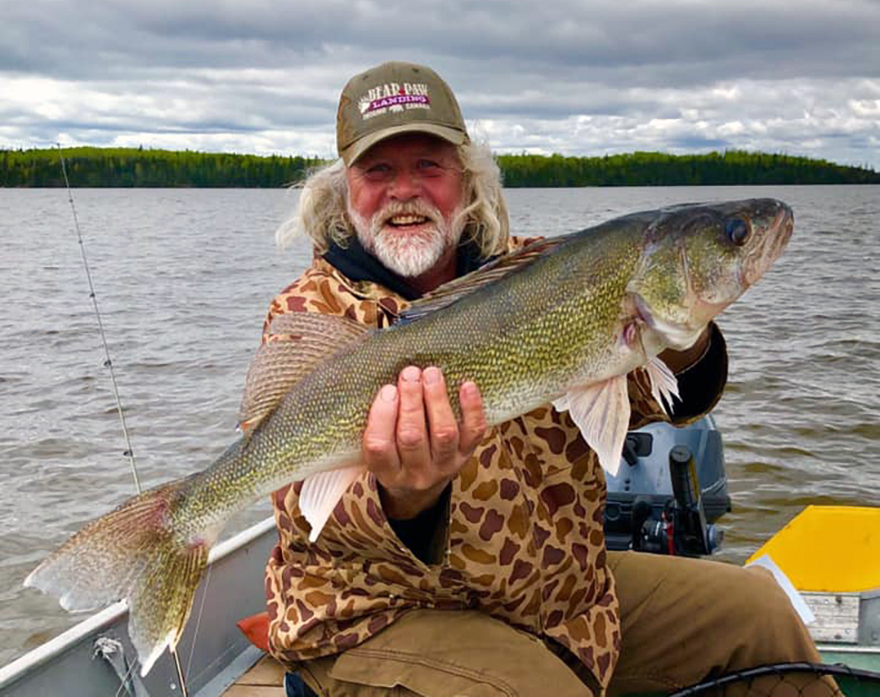 George Christensen from Prairie Farm, WI caught this huge 11lb, 30" walleye on Wabigoon Lake.
Eagle Lake Area:
Eagle Lake has a wide variety of fish to choose from. Right now the walleye, bass, pike and lake trout fishing has been pretty decent. Once muskie fishing opens in mid June, we'll probably see a bunch of monster muskies being caught as well. Eagle is a large lake, but there are a lot of islands and bays to fish out of the wind if need be. Eagle Lake Island Lodge is located on an island in the center of the lake.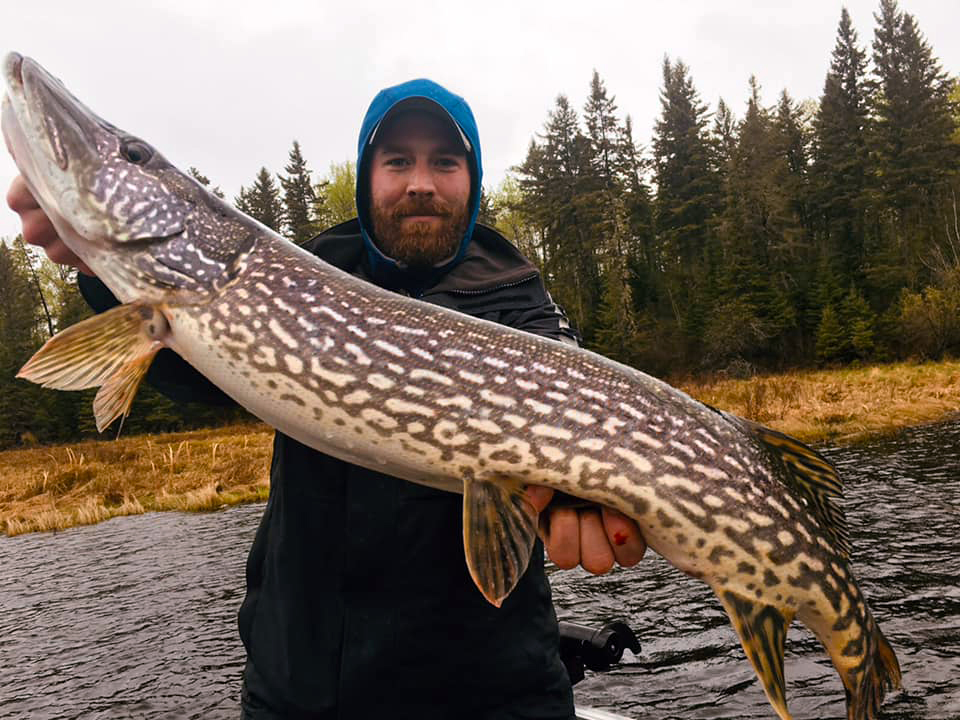 Guide Jim Clement landed this nicely-marked northern pike while waiting for guests to arrive at Eagle Lake Island Lodge.
Minaki Area:
The pike, walleye and bass fishing has been great at Halley's Camps on the English River System! Huge pike are being caught, including a 48" pike that can be seen here.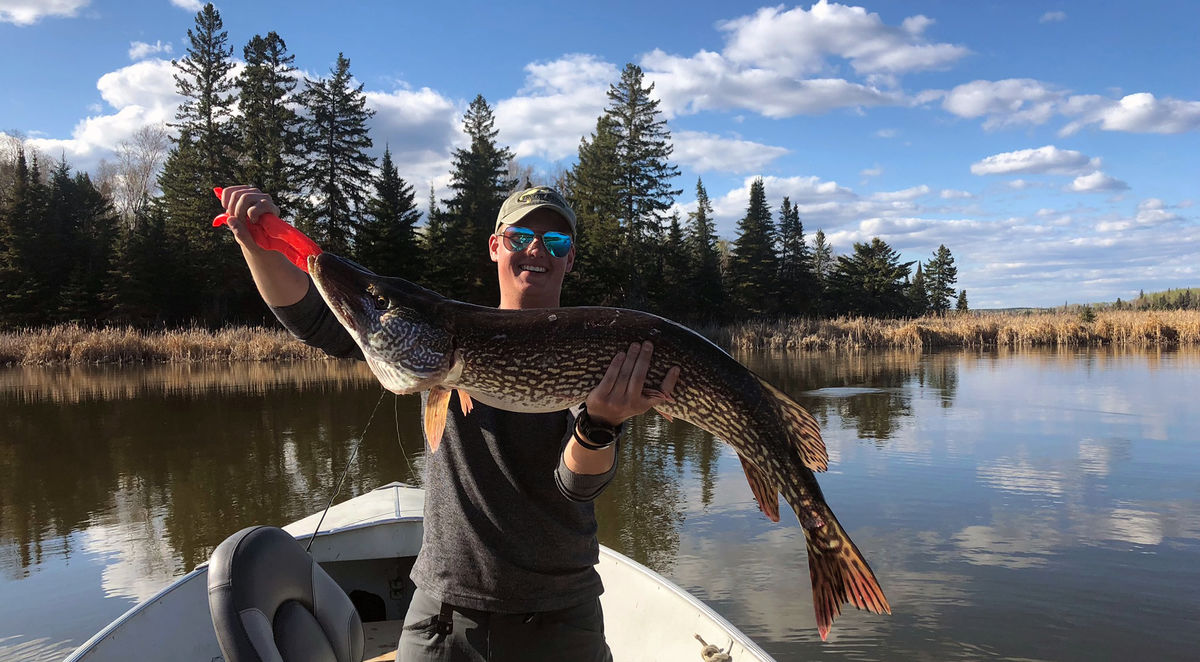 Jacob caught this 43" pike while fishing at an outpost 5 miles north of Caribou falls Landing on the English River.
Morson Area:
The south end of Lake of the Woods and other lakes in the area tend to have the ice go out earlier than the northern lakes. Harris Hill Resort, in between Rainy River and Morson has had anglers catching many bass around the 20" mark as well as some nice walleye.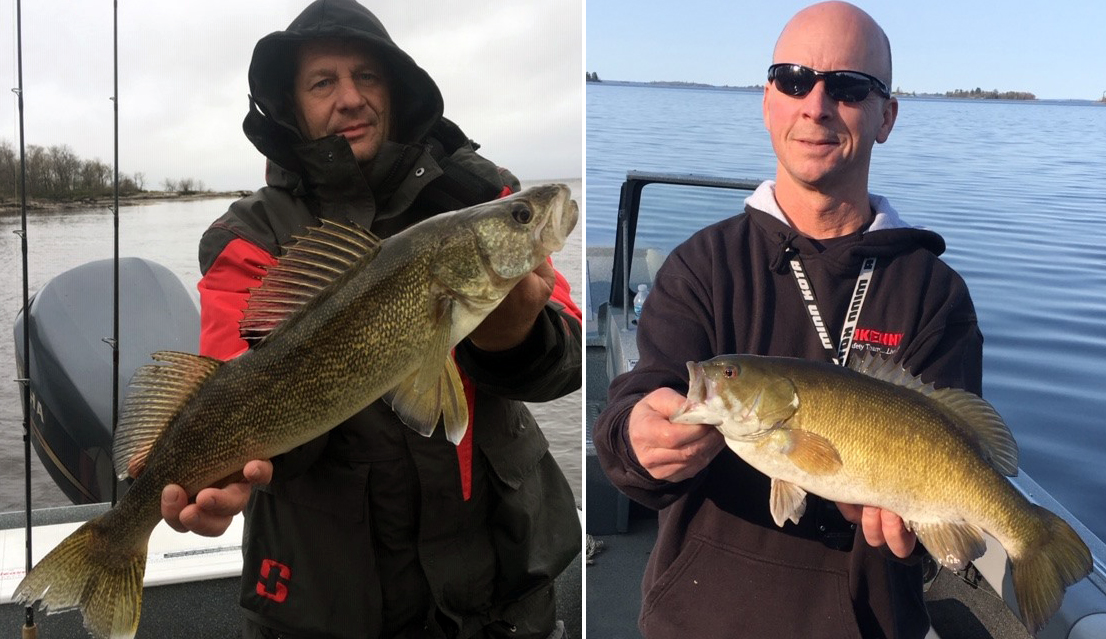 Adam with a 26" LOWS walleye and Dean with one of his many bass.
The last week finally warmed up and the early season fishing report from Ontario Wilderness Houseboats has been positive - everyone is catching walleyes! Right now the walleyes are hitting in about 14-20' of water with a 3/8 oz brightly colored jig and a minnow. The big ones are biting too with a few over 30" caught and released in the past week! Read more about the recent fishing at Ontario Wilderness Houseboats on Lake of the Woods here.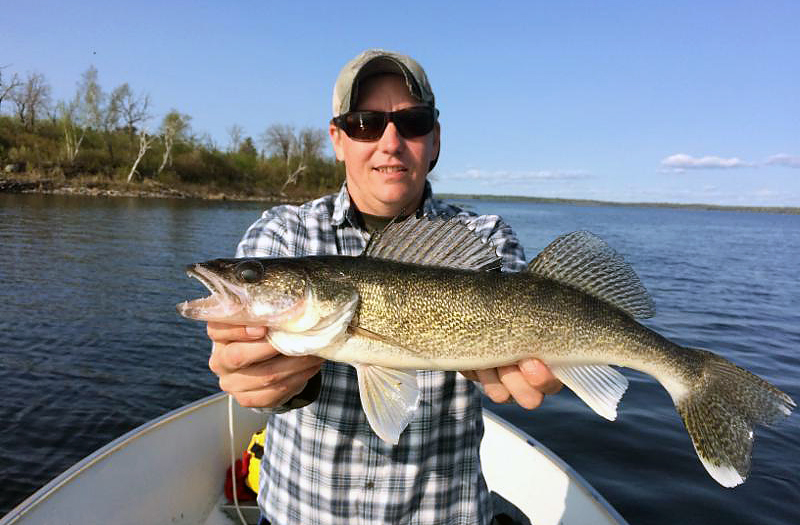 Nice walleye caught in May while staying at Ontario Wilderness Houseboat Rentals
Sioux Lookout Area:
There are plenty of places to fish around Sioux Lookout - Lac Seul, Big and Little Vermilion Lakes, the Minnitaki Chain of lakes and more. Moosehorn Lodge faithfully posts their guests' catches on their Facebook page. Many of the guests are fishing with guides who will put you on the fish! While chilly some days, there were a few nicer days as well. Lake trout, walleye, bass and pike were are biting.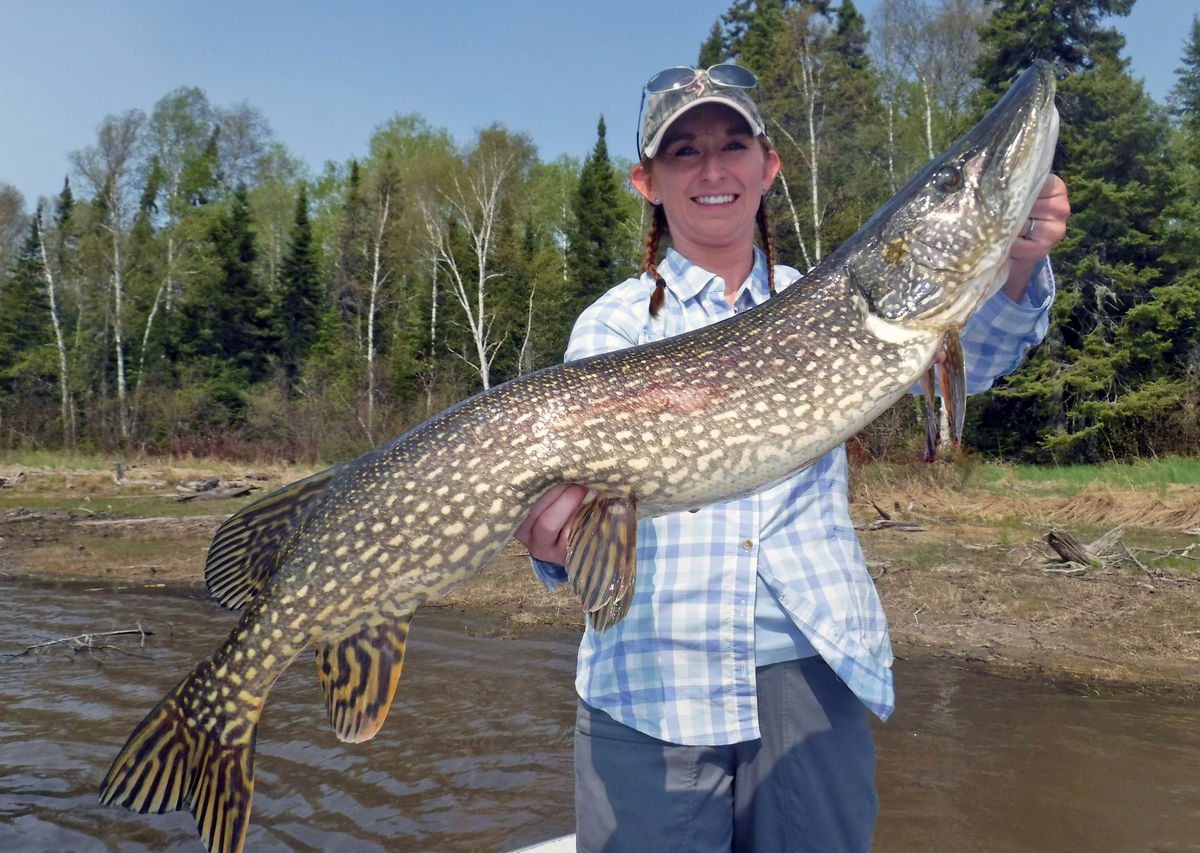 Emily caught this nice northern pike in May while fishing with Moosehorn's guide Nate Andrychuk.
Fly-in Lakes:
Hal's Outposts on Tompkin's Island on Loonhaunt Lake near the Pipestone Chain of Lakes had a great opening weekend. Being in the southern part of Sunset Country, their outpost lake was ready earlier than some of the remote northern outposts.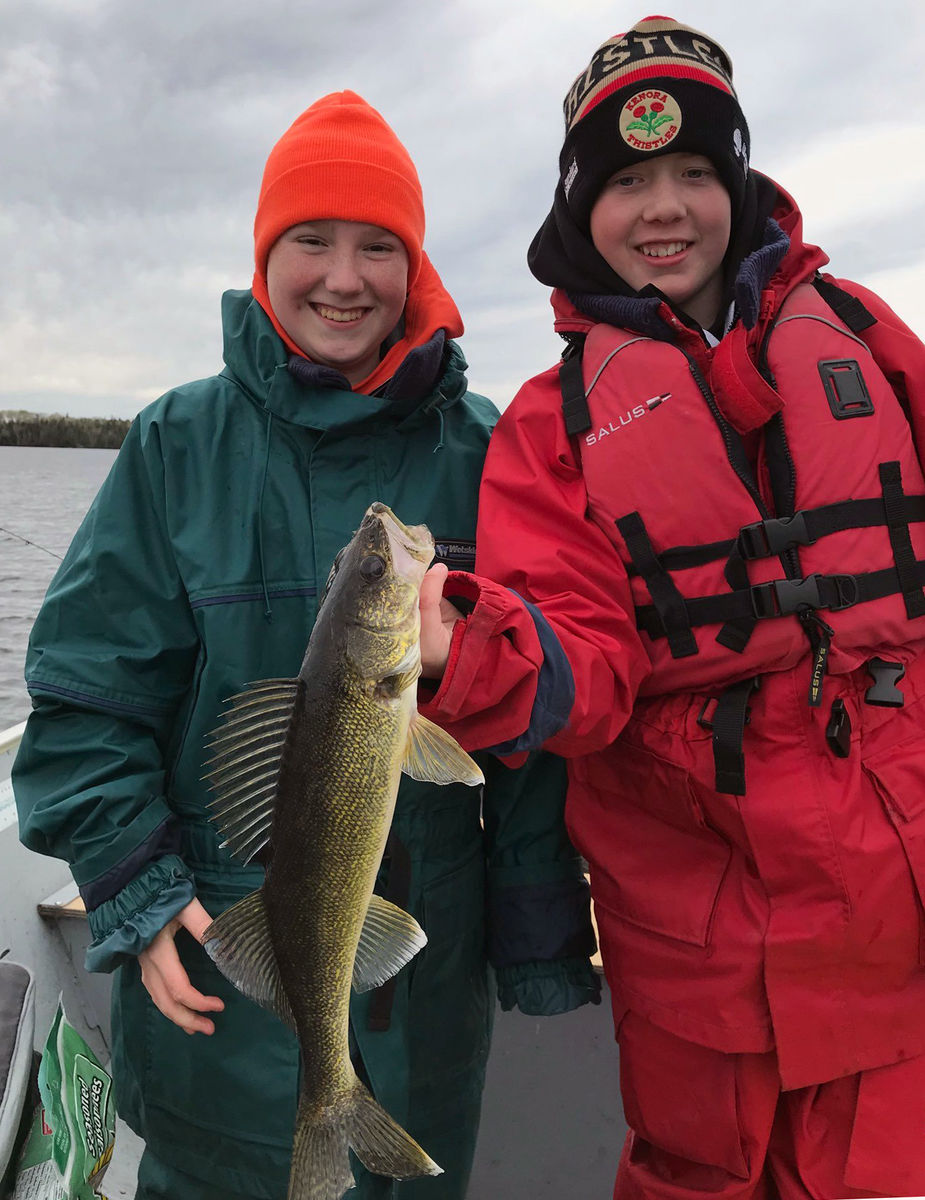 The cooler weather can't dampen the children's spirits on May Long!
There was some serious trout fishing happening on Trout Lake north of Red Lake! The ice went out around May 17th or 18th on Trout Lake, making the ice-out trout fishing fantastic in May! Cat Island Lodge is just one of the lodges on the massive lake.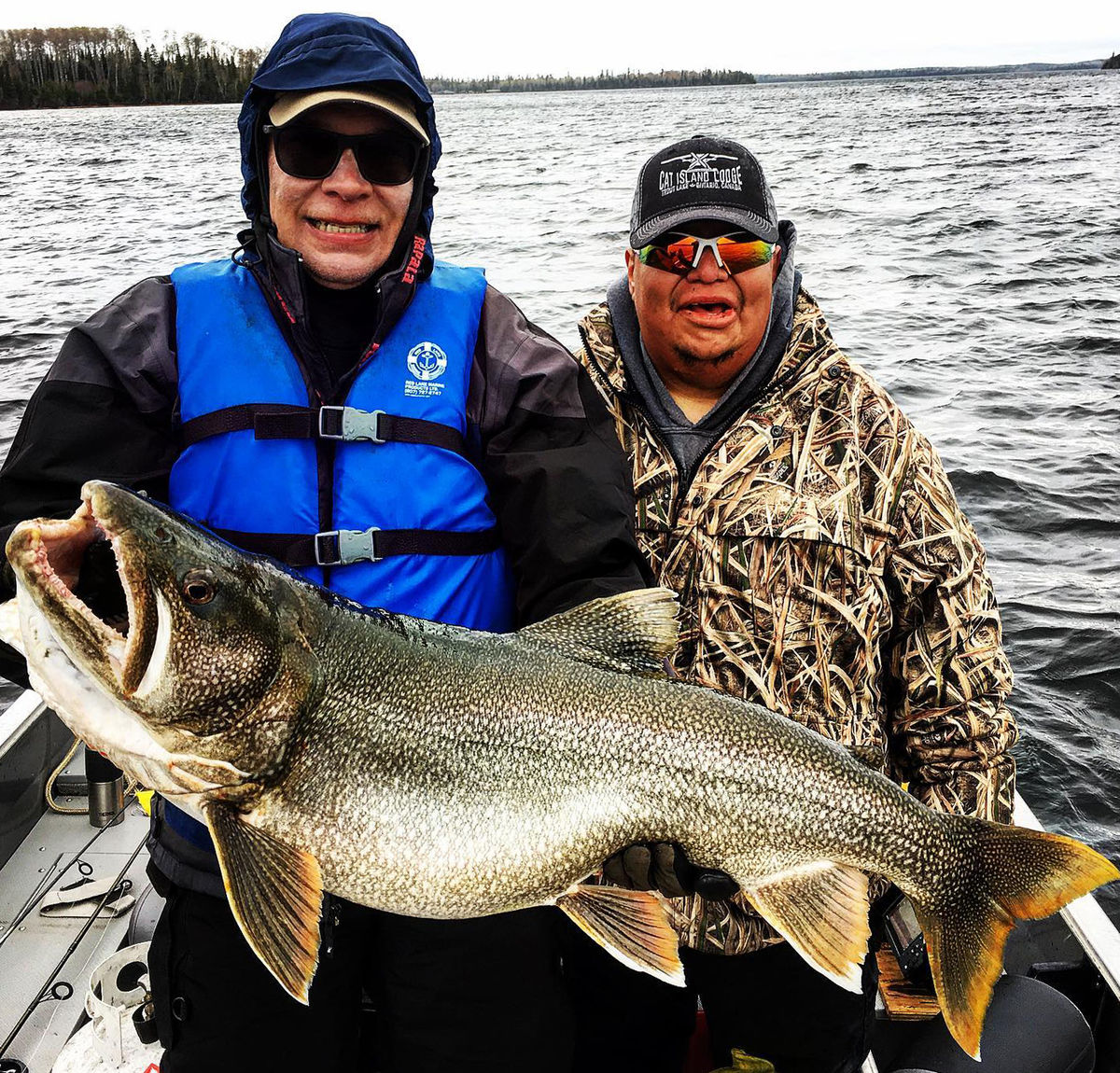 Cat Island Lodge's guide Bear Linklater put his guests on the lakers! This is one large lake trout!
In a nutshell, May fishing has been fairly good. The cooler temperatures earlier in May slowed the thaw down a bit, but temperatures are rising and the fish are hungry! Bring on the rest of the summer!
For more fishing updates throughout the year, join our Fishing Northwest Ontario's Sunset Country Facebook Group. You can even post your own updates of what you're catching and what's been working for you.