With winter's arrival and ice now on area lakes, avid anglers are thinking about ice fishing. Well, when it comes to hard water fishing, there are several places you can stay and enjoy our fantastic fishing during the winter months. In this article, we'll discuss what you can catch and give a brief overview of some of the places you can stay at. Winter fishing is a lot of fun and after a day on the ice, you'll really enjoy relaxing in your comfortable cabin under the stars in Sunset Country. Big fish and big fun are what it's all about!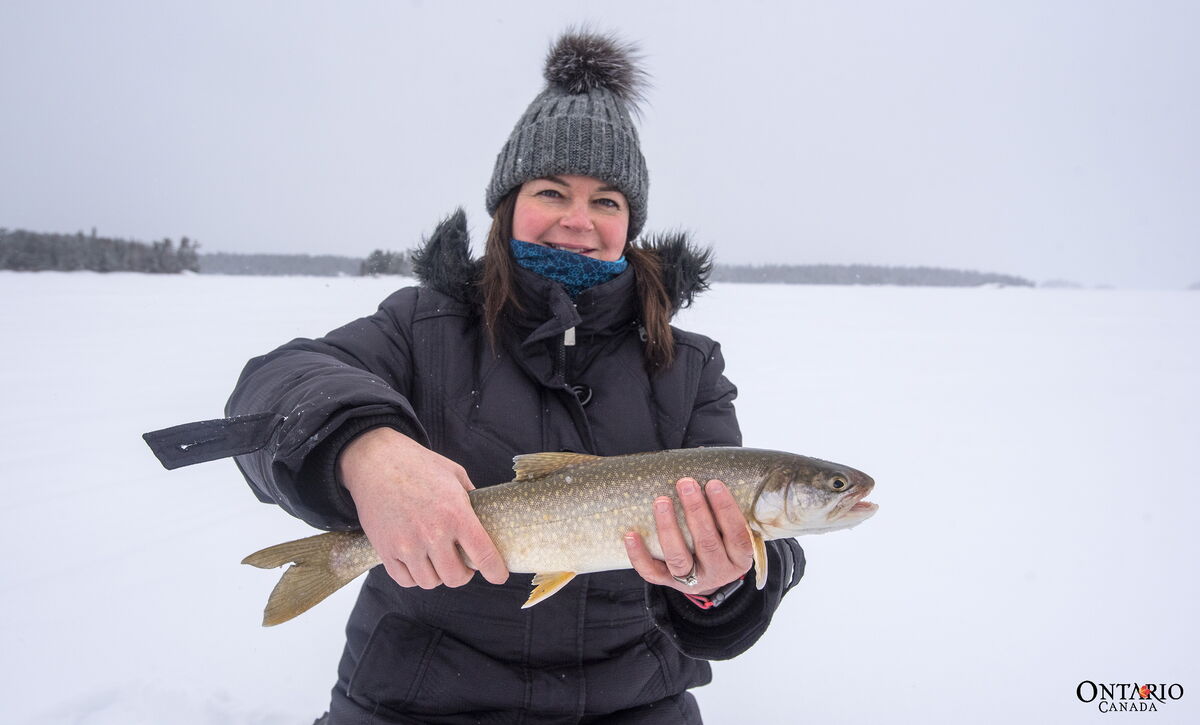 What you can catch through the ice
One of the fun things about going ice fishing in Ontario's Sunset Country is the fact you can catch multiple species through the ice, sometimes all on the same lake! Here's a brief round-up of what's available:
Walleye: Virtually everyone's preferred fish to catch while ice fishing is walleye. These beautiful fish are especially tasty when caught out of the ice-cold water. A winter shore lunch is a real treat and when served with all the fixings, well, that's an experience you will remember. Jigging with a minnow is what most people do although these fish will certainly smack artificial baits as well. The season closes on April 14th so you can catch them all winter.
Northern Pike: There's nothing quite like pulling a giant pike through an 8 or even a 10-inch hole in the ice but it's done every winter here in Sunset Country. Pike are always cooperative and the smaller fish are a taste sensation when caught out of cold water. Just remember to remove that y-bone! The season is open all year.
Whitefish: Not the first choice of ice anglers but you sure can catch them while ice fishing. They taste great when smoked! The season is open all year.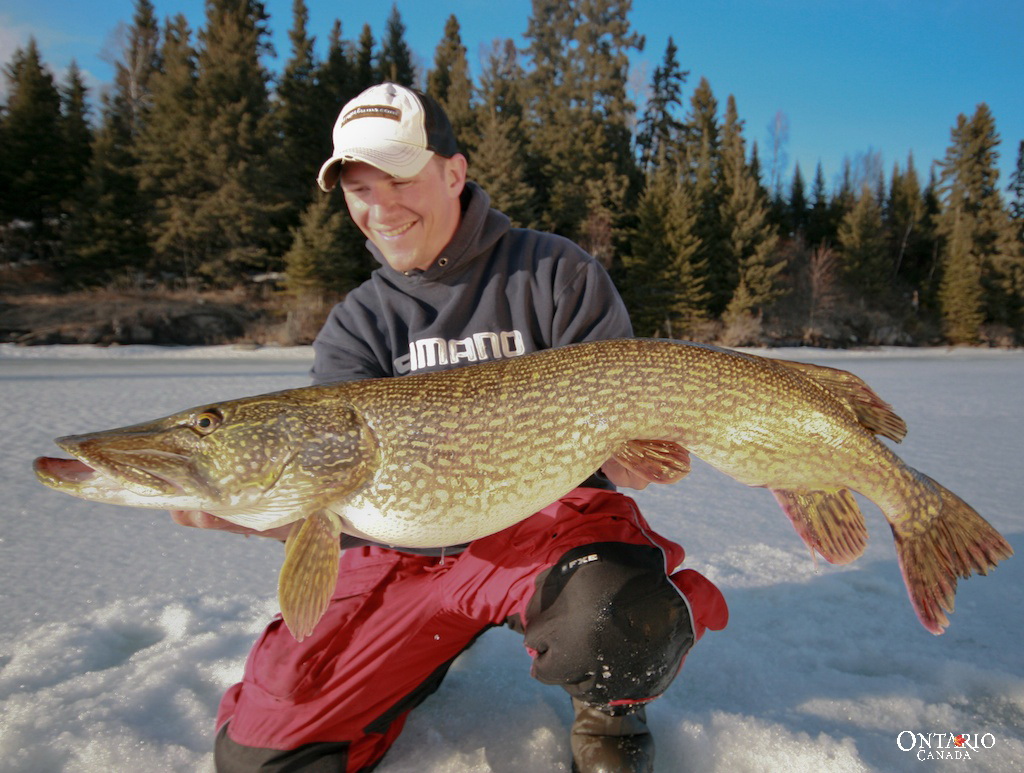 Lake Trout: Many anglers target lake trout during the winter and with the sheer number of trout lakes in Sunset Country, your chance at a whopper is good. If a big lake trout bites, be prepared for an epic fight as these fish are all business. The season opens from January 1st through to the end of winter.
Black Crappie: One of the tastiest of fish anywhere and one that loves to bite during the winter is the black crappie. These fish can slab out close to 3 pounds and with a delectable taste, you'll love catching them! The season is open all year for this yummy panfish.
Bass: While not usually the main species people target, you have a good chance of catching bass even if you are not fishing for them. They fight the same as they do in the summer so be prepared! The season is open throughout the winter months.
Yellow Perch: Perch are another species that are best eaten during the winter months when their meat is firm and fresh. These fish are on many lakes in the region so your chance of catching one is good. The season is open all year for yellow perch.
Eelpout/Burbot: Some folks consider these to be freshwater lobster although they certainly don't look the part. This species is very active in the winter feeding on the bottom of the lake bed. Open throughout the winter.
Make sure you consult the Ontario Fisheries Regulations Summary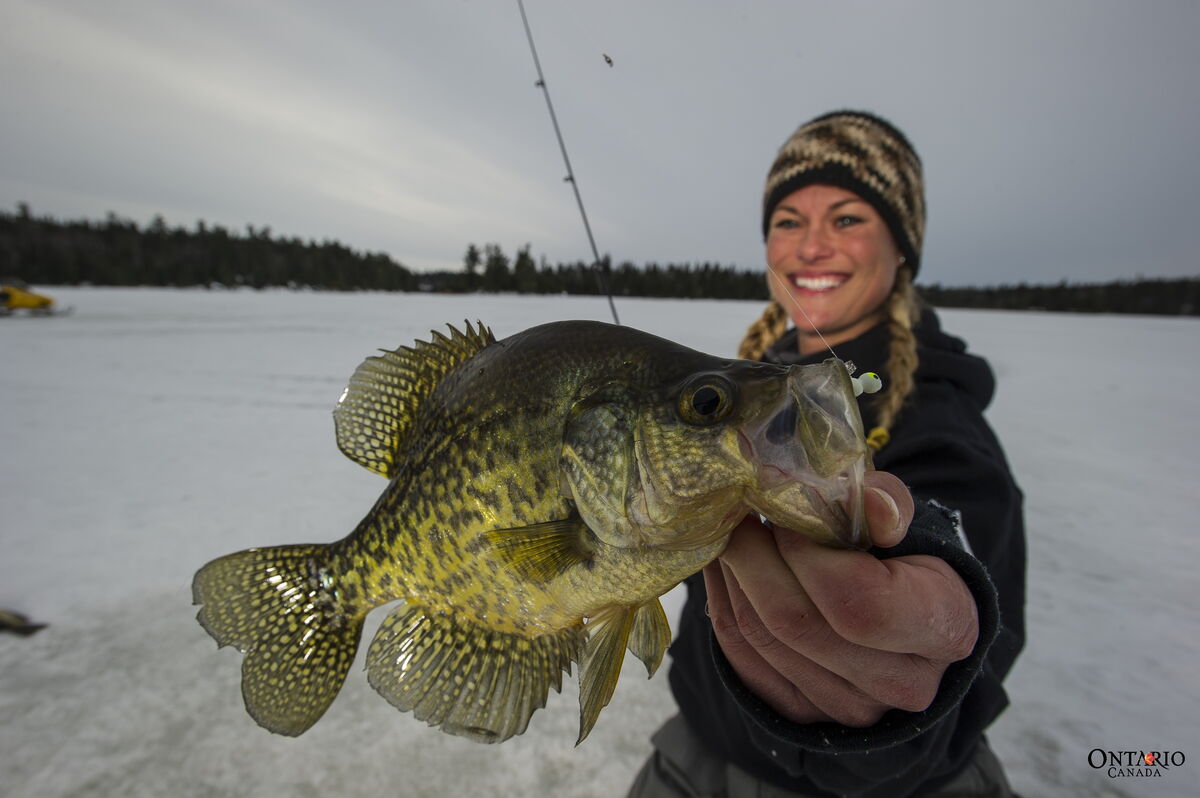 An easy-to-use list of places you can stay
Just link to any one of the Sunset Country member properties below that cater to ice anglers.
Lodges
Sunset Cove Resort on Lake of the Woods
Cobb Bay Lodge on Sturgeon lake
Merkel's Camp on Wabigoon Lake
Muskie Bay Resort on Crow Lake
Crawford's Camp on Lake of the Woods
Totem Resorts on Lake of the Woods
Timber Wolf Lodge on Winkle Lake
Temple Bay Lodge on Eagle Lake
Browns' Clearwater West Lodge on Clearwater West Lake
Manitou Weather Station on Manitou Lake
Anishinabi Lodge on Anishinabi Lake
Tomahawk Resort on Lake of the Woods
Ross Camp on Clearwater Lake
Lac Seul Wilderness Resort on Lac Seul
Bonny Bay Camp on Wabigoon Lake
Stanley's Resort on Eagle Lake
Labelle's Birch Point Camp on Rainy Lake
Branch's Seine River Lodge on Banning Lake
Clarke & Crombie Camp on Lake of the Woods
Five Lakes Lodge on Gullrock Lake
Maynard Lake Lodge on Maynard Lake
Lakeview Lodge on Crow Lake
Woman River Camp on Woman River
Birch Dale Lodge on Eagle Lake
Perch Lake Lodge on Perch Lake
KC's Landing on the Indian Lake Chain
Maynard Lake Lodge on Maynard Lake
Crystal Harbour Resort on Lake of the Woods
Hotels and Motels
Nature's Inn in Red Lake
La Place Rendez Vous on Rainy Lake
Super 8 in Kenora
Super 8 in Fort Frances
The Bayview Motel in Fort Frances
The Rainbow Motel in Fort Frances
Ice Fishing Guide Services
Here's an article with some ice-fishing tips
MNR Regulations and Ice Fishing
If you're already a member of Sunset Country and we missed you on the list, please contact us.
If you want your business listed in this article, become a member of Ontario's Sunset Country.