Located on Sabaskong Bay on Lake of the Woods, Hanson's King Island Lodge is one of the first tourist lodges on the lake serving families and fisherman for over 90 years! When you're in business for that long, there's a reason for it and at Hanson's it's easy to figure out why families and fishermen keep coming back year after year. In fact, for some families, they have been returning to this little piece of paradise for generations!
Everything Started in 1926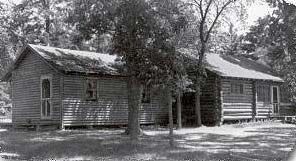 It all began back in 1926 when Kendall Hanson and his elder brother Marion decided to open a tourist camp. Originally based out of Rainy River, guests came by train from Chicago to Baudette, MN on the "Fishermen's Express". In 1936 the bridge was built at Nestor Falls, joining the road that dead-ended at Green's with the road north & west to Kenora & Manitoba. It was that year that Kendall built Hanson's Hideaway Lodge on Crow Lake, and moved the family, now with two children, to Nestor Falls
In those early years, fishing was done out of canoes, with fly rods, and the targeted species were Muskies and Bass. Though the numbers of fishermen dwindled thru the depression and war years, they never completely stopped coming. While Kendall joined the service and was away during the war, his wife Ellen continued to keep things operating, with the help of great employees and family. She also taught school in the one-room schoolhouse in Nestor Falls.
Lodge Expanded after World War II
Post-war saw expansion at King Island Lodge, as two additional cabins were added to the original five log cabins and lodge that had been built by 1930. Chuck worked alongside his father for years, and in 1956 he married and shortly thereafter took on the management of King Island. He and Merla ran operations at King Island until her death in 1991, at which time daughter Donna stepped in. Check out our Lake of the Woods rental cabins.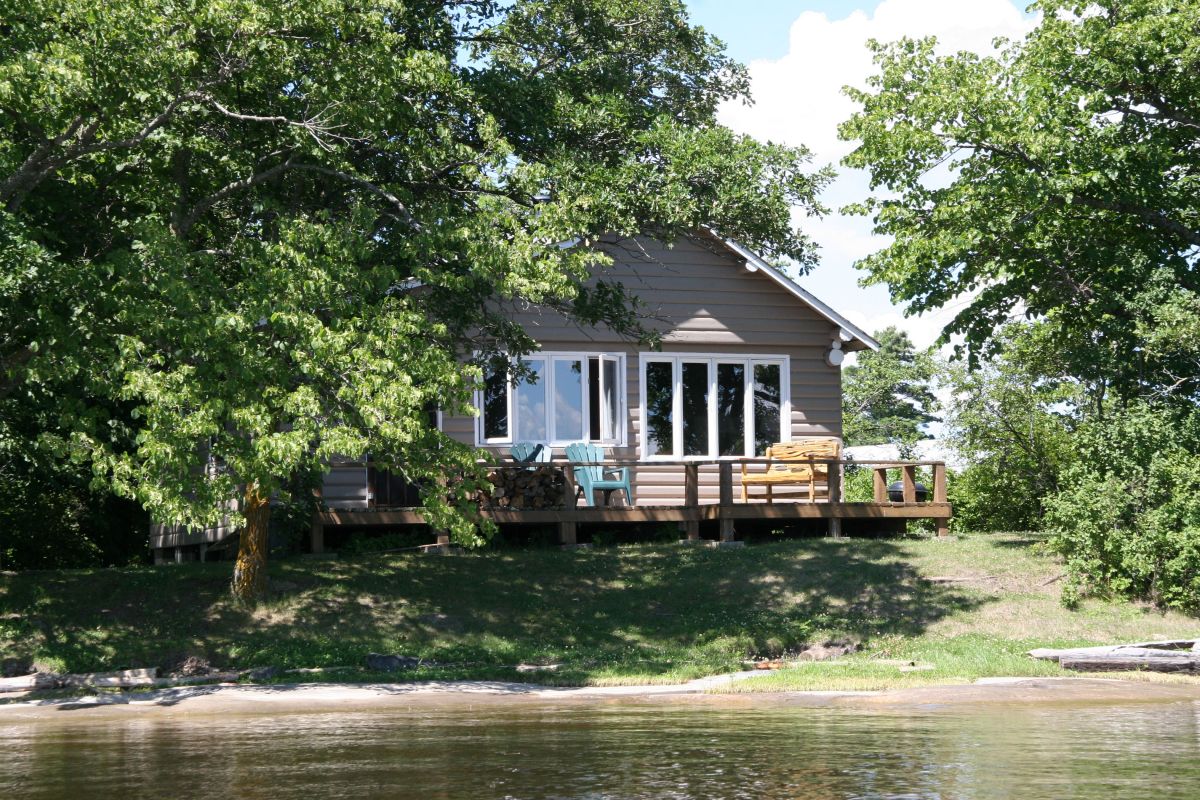 Walleye joined the sought-after species list in the 50s & 60s, and the bounty of Lake of the Woods, the variety of species, along with the beautiful scenery, and Merla's great cooking, kept fishermen & families returning year after year for decades. Three additional cabins were added, one in the 60s, one in the 70s and one in 1980. All cabins have been remodeled, with kitchens added to accommodate those who wish to housekeep, and 'do their own thing'. American Plan is still available, as it was from the beginning in 1926.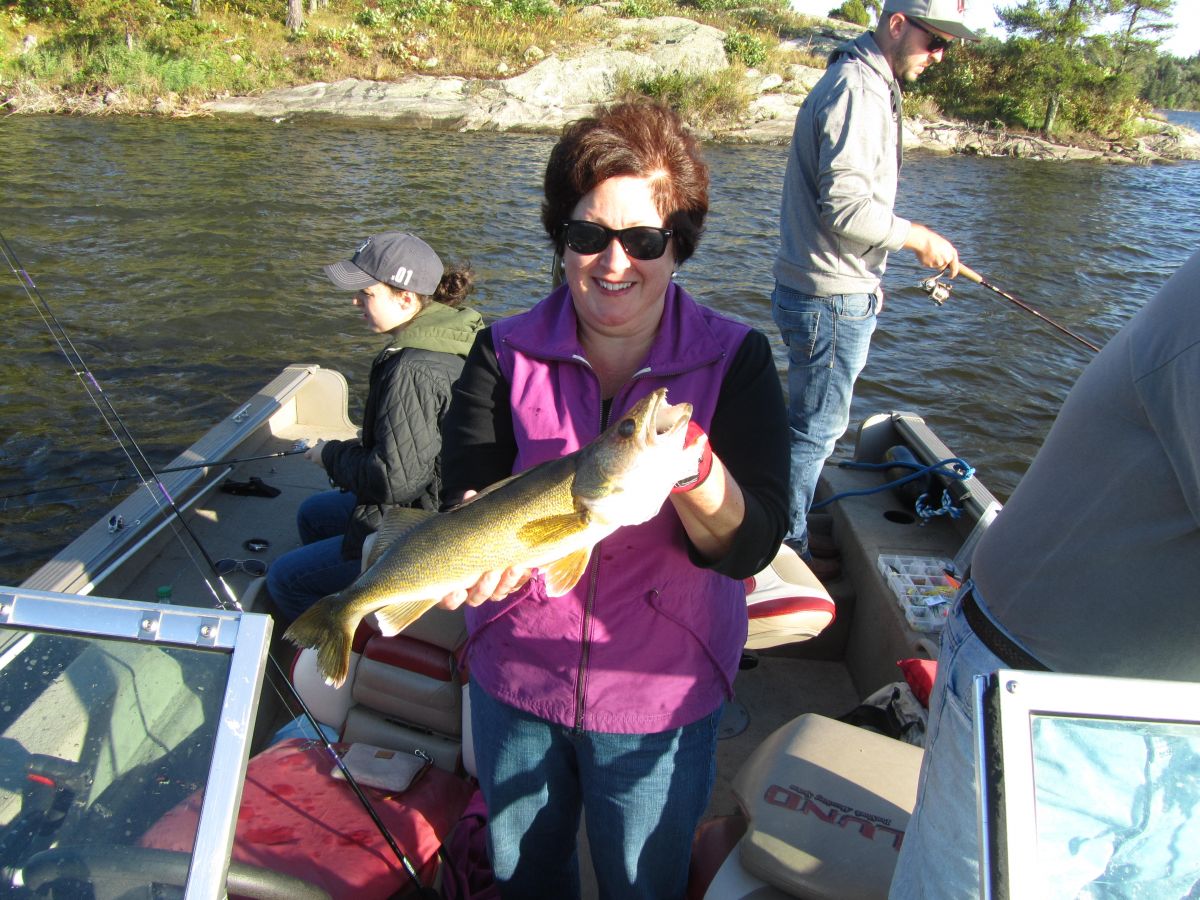 The Natural Sand Beach is Great for the Kids!
A small natural sand beach faces southeast and has provided years of entertainment for young and old alike. There is a rich variety of tree species on the island, many scrub oak, indicating that the island was once a stopping place of the Ojibway people, hundreds of years before we fell in love with it. A local First Nation representative told us that "King Island" was originally named "Chief's Island" in Ojibway because that is where the Chiefs would gather to dance when they gathered on our part of the lake centuries ago. The area is also rich in avian species and watching eagles, loons, local ducks & hummingbirds provides hours of entertainment for the less avid fishermen.
Creating Lifetime Memories for Generations of Families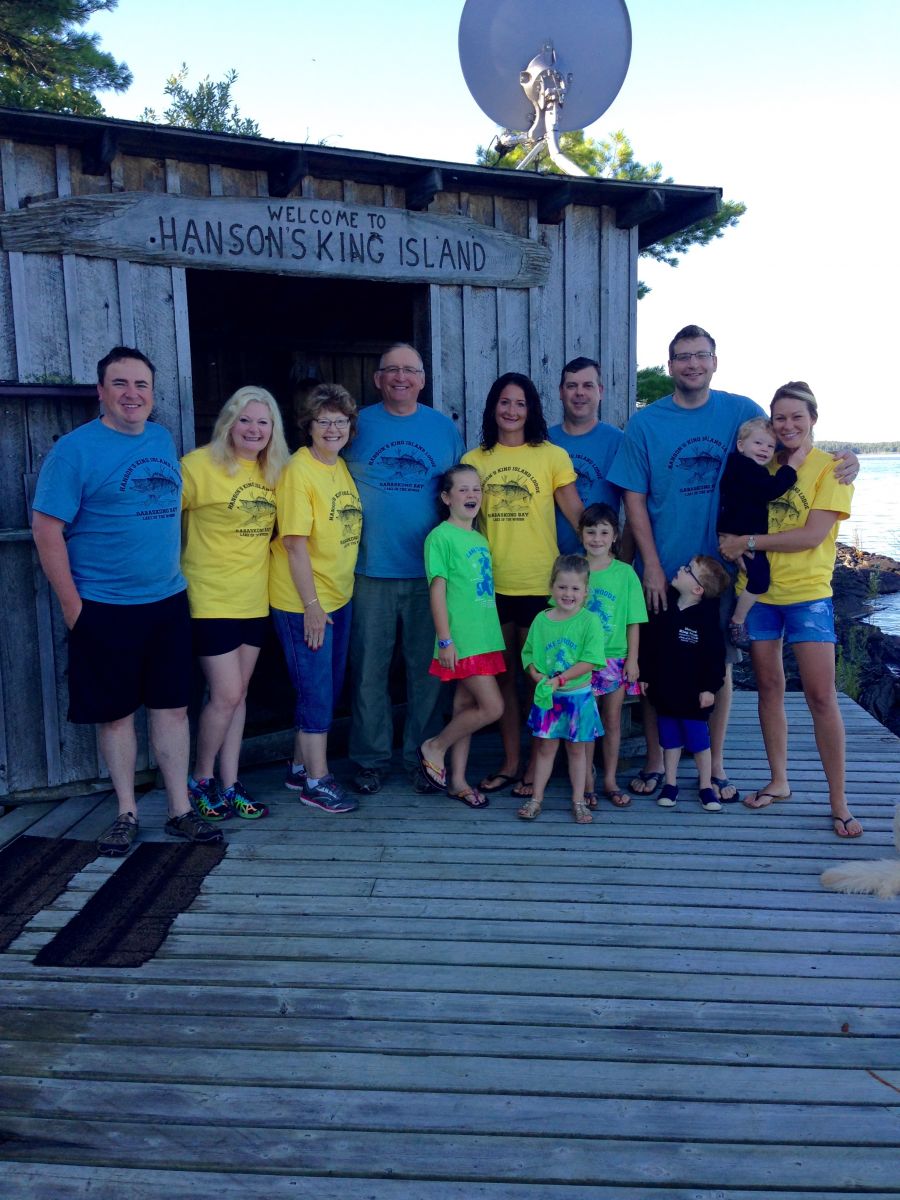 With its sand beach, kayaks and natural trails, kids never run out of options to have fun and explore the wonders of the lake and the Boreal forest that surrounds it. The shore are great places to search for driftwood, and the rocks make wonderful spots to cast as the sun slowly sinks below the horizon, ending the day with amazing sunsets. All this makes Hanson's King Island Lodge a perfect destination for family fishing vacations!
"My guests often tell me they couldn't wait until their kids were old enough to come and be able to fish and explore the island and the lake like they did when they were kids" said Hanson. It's obvious both to Hanson and the families that come here year after year just how special a place this is. Whether it's that look in a child's eyes when they catch a fish or the joy of watching three generations of the same family swim together down at the beach, families are a key component of the camp's business base during the warm summer months of July and August.
A Famous Muskie Destination – Sabaskong Bay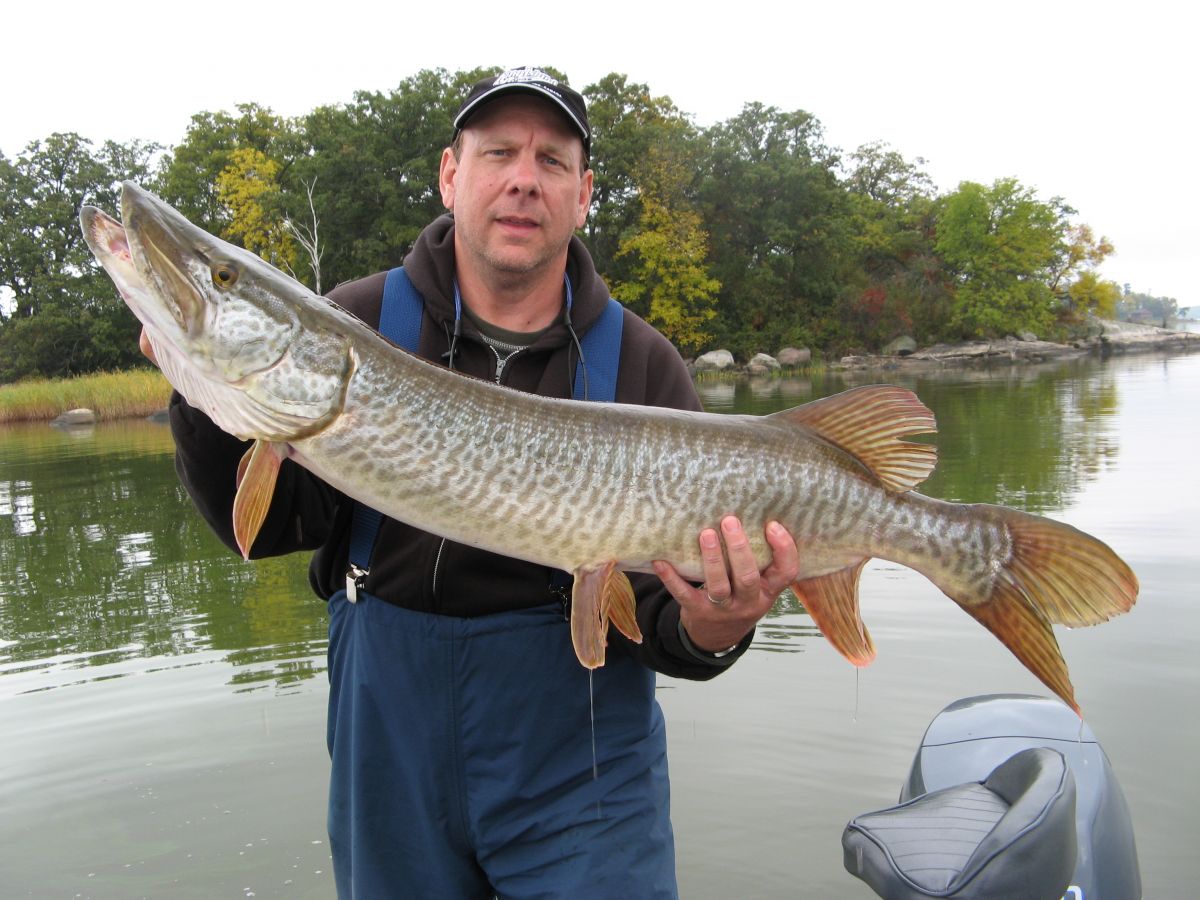 Ask any muskie angler if they've heard of Lake of the Woods and virtually every one would answer "yes" without hesitation. Ask them if they heard of Sabaskong Bay on Lake of the Woods and many will tell you "that's where I go on the lake to catch them". Sabaskong Bay is, arguably, the most famous of the many bays on Lake of the Woods, at least pertaining to muskie fishing. There are a lot of muskie in this part of the lake and many of them are in the "giant-size" category.
Lodge owner Donna Hanson notes that while late summer and early fall are "prime time" for the really serious muskie anglers, the fishing is good throughout the season and there is always at least one party of muskie fishermen in camp at any one time, except maybe in late May and early June before the season opens. Think about the options a trip to King Island Lodge presents, active fish, classic Canadian Shield structure to fish and the chance at that elusive 50+ inch muskellunge.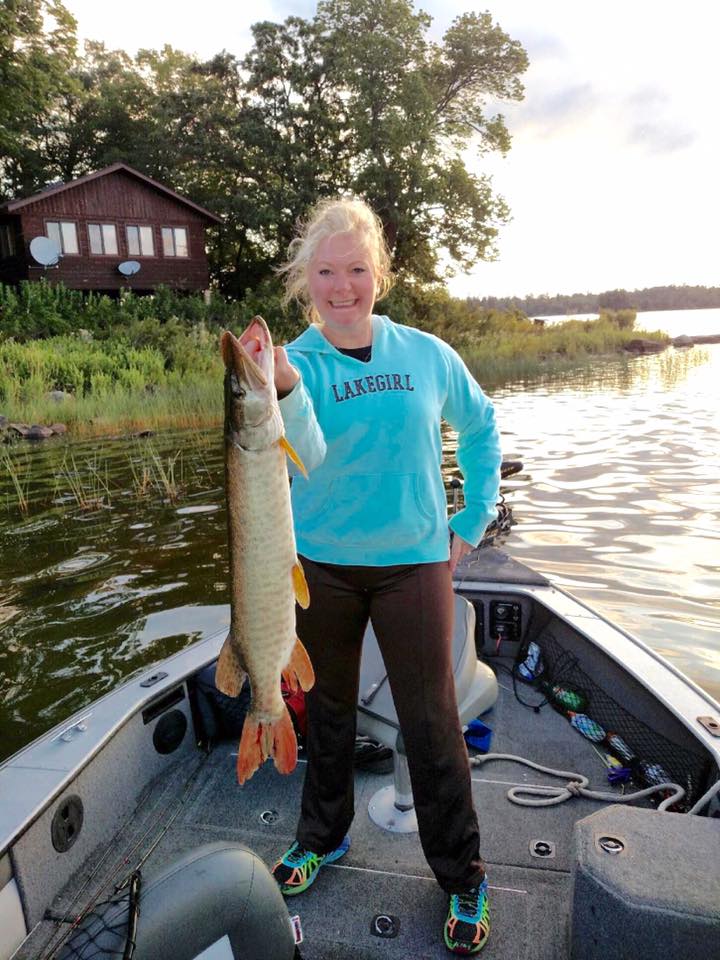 Sabaskong Bay is littered with islands, sheltered bays and rock flats where the big fish like to hang out and if it's your day, who knows, you could catch the Canadian record in these waters. Like the generations of families that have visited the lodge over the decades, there are also generations of muskie anglers starting with grandpa, his boys and then followed up with the grandkids. Catching big muskie at Hanson's King Island Lodge is a tradition and year after year, the fishing just keeps getting better.
The fishing is incredible in this part of Lake of the Woods! In addition to big muskie, you can catch multiple species of other fish in the lake including bass, walleye, northern pike, perch and black crappie. Even if you're an avid muskie fisherman a shore lunch of freshly caught walleye is something that just can't be beat. For the families that visit the resort, shore lunch is one of the biggest highlights of the week.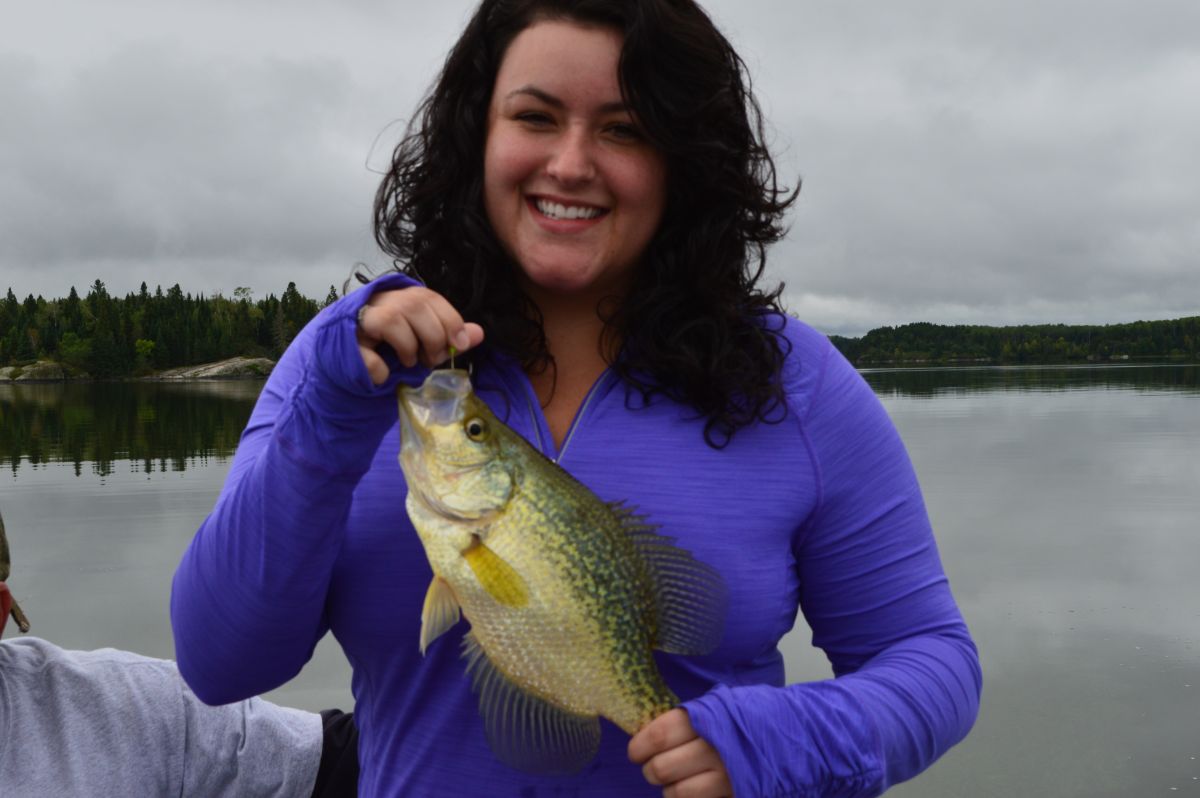 Here's a documentary feature on King Island Lodge filmed a few years ago.
Getting to Hanson's King Island Lodge
Hanson's King Island Lodge is boat-in access only. This means you drive to the landing in Nestor Falls where you can then take your own boat out to King Island or get picked up in the lodge transport boat. Nestor Falls is a short drive north of Highway 11 on Highway 71. The island location makes a trip to the lodge a unique experience. Once on the island, you are in the heart of the best fishing Lake of the Woods has to offer, no need for long boat rides to get to the best fishing spot since you're already in the middle of the best spots. Here is more detailed information on how to get here.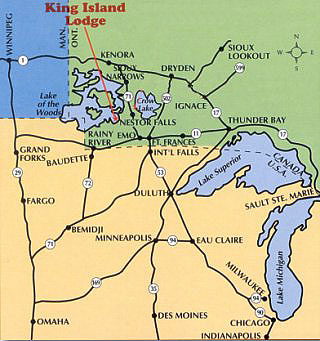 Packages Available
Hanson's King Island Lodge offers a variety of packages to suit your tastes. There are American Plan and modified American Plan packages or you can cook for yourself with a housekeeping package. See the lodge's current rates for more information.
Contact Information
For Reservations or for more info, Please call, write or e-mail the lodge.
King Island Lodge
Box 559
Nestor Falls, Ontario
Canada P0X 1K0
King Island (Summer Only) 1-807-488-5832
Winter 1-807-275-9560
E-Mail : donna@kingislandlodge.com
Website: KingIslandLodge.com