A CASE FOR JIGGING
While many anglers visit us in Ontario's Sunset Country during the winter to catch lake trout through the ice, not as many take advantage of the excellent lake trout opportunities that exist in open water, particularly in September.
With cooling water temperatures, this cold-water species is able to shift a little higher in the water column where they relate to main lake structure like points and humps, in shallower water than they spend the summer roaming wild in. It seems like the baitfish that these trout prefer to eat, like cisco, smelt and whitefish move shallower, encouraging the lake trout to follow them.
Across the region, using down-riggers is a popular method and is effective at covering water to find lake trout. Troll enough miles and you'll run into fish. Figure out the best depth and you'll probably have a great day. However, with the top-notch electronics that we have today, finding fish on structure or near drop-offs and then dropping a jig down to them is becoming the most effective tactic to catch numbers of lake trout, especially in the fall.
WHY THE SEASON CLOSES IN FALL
Across most of the Sunset Country Region, the lake trout season remains open until the end of September, at which time it closes until the January 1st ice fishing opener. Lake trout spawn in the fall so the closed season protects them when they move to shallow shoals and rocky shorelines to drop their eggs. I believe part of the reason for the excellent trout fishing in September (my favourite month of the year to fish for them) is these fish want to eat to stock up their energy before actually spawning.
I do a lot of my trout fishing on Lake of the Woods, where a few specific areas of the lake have good lake trout populations. These are in the Sioux Narrows/Whitefish Bay and the Clearwater Bay areas of the lake. However, several areas across the region are famous for trout, some other popular waters include Dryberry Lake, Crow Lake, Big Vermilion, Pipestone/Clearwater Chain, Indian Lake Chain, Clearwater West Lake and hundreds more!
I like to look at a map and pick out the main lake points and humps close to deep water. These are the places where these trout will school up to feed. The best spots will look like you are pulling up on a school of walleyes on your electronics, that's how many fish are on some of these spots.
Drive over these likely spots first and watch your electronics for the presence of fish and schools of bait. Keep an eye out for the depth where most lake trout might be suspended and then you'll have a good idea of where to keep your bait when you start fishing to make contact with the most fish. I like to look for fish in 40-75 feet of water, and specifically on top of humps in 40-60 feet. Trout will suspend in these depths around these pieces of structure as well.
DROPPING DOWN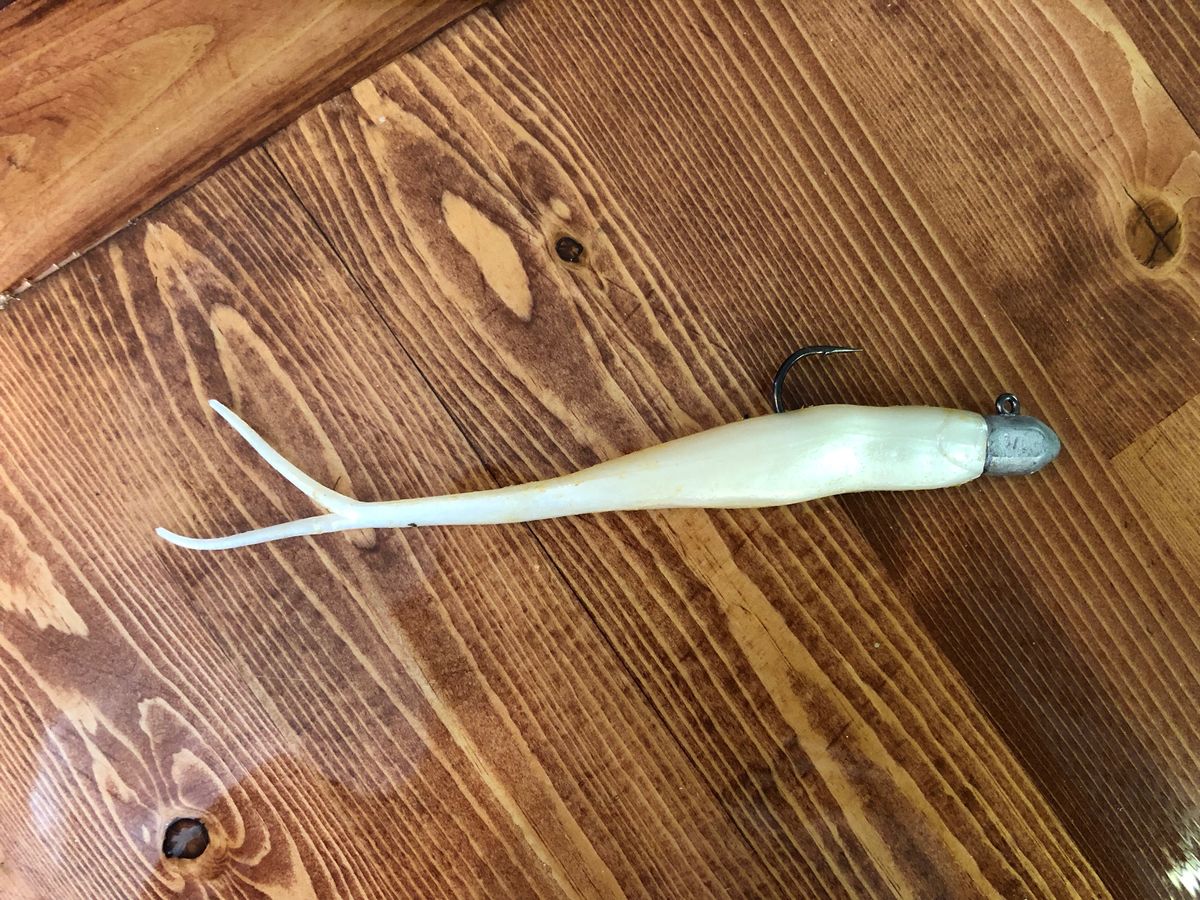 Once I see a few fish I take the time to position my boat back on top of them before dropping baits over the side. This makes it more efficient with getting baits in front of as many fish as possible. The baits I most often use are soft plastic jerk shads that are four to six inches in length. I like to thread these onto ½ - ¾ ounce jigs and usually, we just use heavy bass tackle. I like spinning rods because they allow you to use lighter line and that helps gets baits down to lake trout quickly.
10 lb. braided line with a 12 lb fluorocarbon leader attached is more than efficient. You can easily land 20-pound plus lake trout on these combinations. Heavier tackle will at some point decrease the number of bites that you'll get. These minnow imitators are good because they are realistic to the forage that trout are looking for on most days. Spoons, blade baits and tube jigs will all catch fish when jigged under the boat as well. Experimentation on a daily basis is never a bad idea.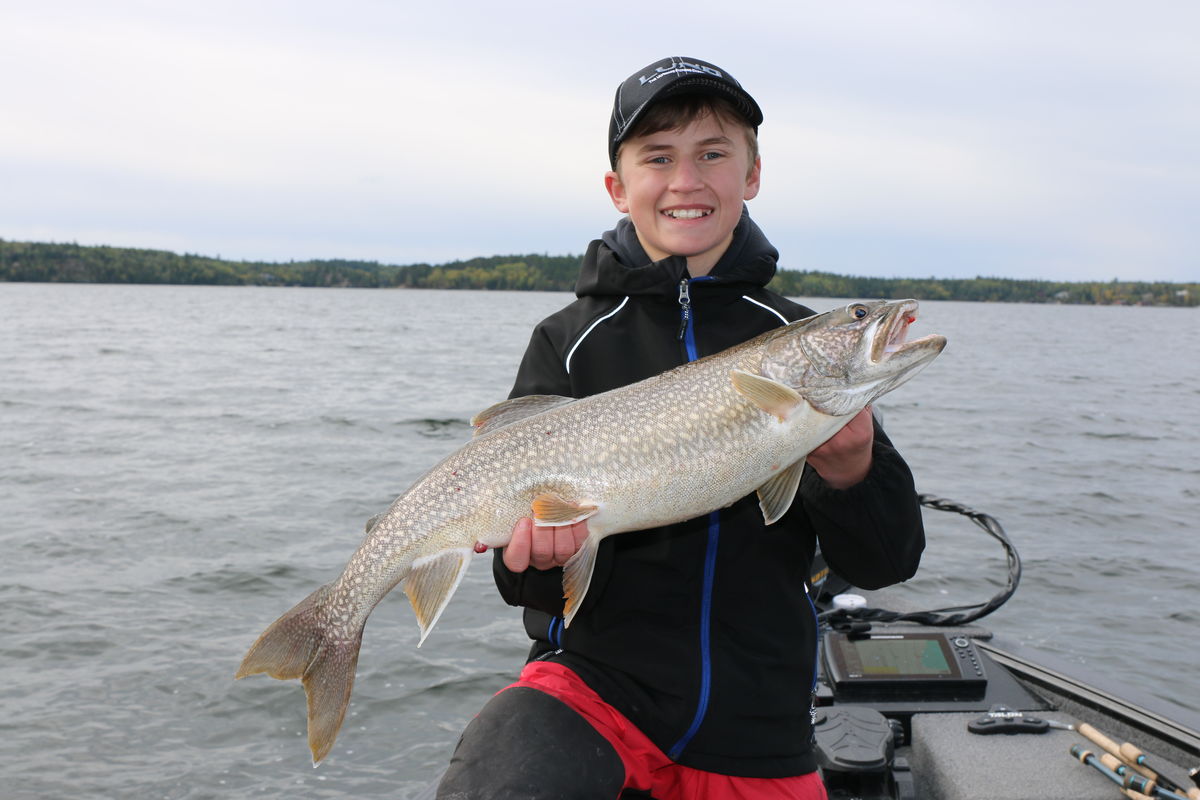 Keep in mind that some waters have special regulations that require anglers to use barbless hooks while others do not permit the use of live or dead fish for bait. Some waters are catch and release only so make sure you know the regulations for the body of water that you're fishing to avoid getting into trouble.
Lake trout are great fighters and they are some of the prettiest fish you will ever lay your eyes on. We have some excellent trout fishing opportunities on pristine bodies of water up here Sunset Country, maybe something to consider for your next fishing trip. Many of the lodges and outfitters across the region slow down in September so you might be able to find a hot deal on a last-minute trip!