One of the major benefits of your Platinum or Gold membership with Ontario's Sunset Country are the many customer leads that you receive generated from people who visit our website. When a person is on our guide inquiry page not only can they request a copy of the Sunset Country Guide and Map, those customers have the option to check a box that says "yes - I want a follow-up from your members". When a person asking for the guide checks this box, it creates an inquiry that all our members see—these are what you currently get in email inbox in real time on a daily basis.
The Lead Management System (or LMS) was developed to address a number of issues we have seen over the past few years. It has been designed to increase the effectiveness of the lead system and to increase the yield you get from the time and effort you put into responding to the leads—there are many benefits to the new system explained below.
Here is a point-form summary of what the new system will entail:
Members will no longer receive the inquiries in "real-time" they will now come once a day in a "digest" form as a single e-mail.
Members will need to log-in using their username or email address and enter a password - all members had passwords sent to them, if you need it re-sent contact the Sunset Country Office. You can also reset your password by visit this link visitsunsetcountry.com/user/password
Clicking the link in the daily digest e-mail will take you directly to your own leads-management dashboard
The inquiries will show the same basic information they do now but in a slightly different format.
The customer's email address will no longer be visible: instead, you will now be able to contact leads directly through our system. This method offers several benefits, including advanced tracking of the e-mails you send
Once you click "send" the inquiry is marked "contacted" so you don't reply to the same people twice.
A Necessary Change to Better Serve Customers
We appreciate that some members may be upset over this significant change in how they receive and respond to inquiries, however, after receiving many consumer complaints, this system was developed, in part, to address consumer concerns. In other words, we are putting the customers making the inquiry at the forefront and this is part of the reason the new system is being implemented. Here are a few more reasons for the change:
To STOP the use of "auto-responder" responses (where a computer responds to the inquiry, not the actual lodge owner). This is one reason the new system was developed as the office receives many complaints each year from people who receive "auto-responses" often 30 or more in the first 5 minutes after submitting the inquiry.
The major complaint from customers is that the auto-responses received are not related to the stated interests they provided.
The sheer volume of responses a customer gets from auto-responders leads to a bigger problem: when a customer receives 30 or more responses from computers within 5 or 10 minutes of submitting their inquiry email, they get upset and often call the office asking for their name to be "removed" from the list, which once the members have already received it, we are unable to do. This makes them even more upset.
So the new system will defeat autoresponders and ensure that customers receive a better response to the inquiries they make to lodges through the system.
The new system will also ensure Sunset Country Travel Association is in compliance with existing Canadian anti-spam laws.
To improve the yield for lodges responding for inquiries and to create a system, that allows you to track your responses on an on-going basis.
Powerful New Features to Better Serve YOU
While the above points explain the main reasons why we are moving to this new system, there will be many powerful new features in the LMS that make it way better for you, our member lodges. These include the following:
The ability to store email response "templates" that you can use and re-use for people asking common questions. For example, you can write and save a separate letter for different fish species people may ask about: so you can have a walleye letter, a pike letter etc. stored and ready to go in the back-end. Another example would be if you offer both American Plan and Housekeeping packages you could have a separate letter outlining your package options for both AP or HK.
The system is scalable, so you can develop as many letter response templates as you see necessary and have them available for use at any time.
You can filter the inquiries now - e.g. see only the ones submitted by people looking for fly-in or American Plan.
A major benefit that addresses complaints we get from some of our members is the new LMS will actually let you know if the person you send the reply to actually received and opened the email you sent them. We often hear from members that they send out an email and never know if the person even read it—well with the new LMS, you will be able to see if that person opened your email ... what a great feature!
You will also be able to tell if the person clicked on the website link you provided!
You have the ability to respond to more than one inquiry at a time.
The new LMS will reduce the number of your email replies that under the old system, go into a person's "SPAM" box, ensuring a better open rate for the time you invest in responding as a member to the inquiries.
Sunset Country staff are available to help you use the system and we are confident that once you use it a few times, and take advantage of the many new features it offers, you will agree it is far superior to the "real-time" system we used to have in place. There is no "opting-out": all members will have to use the new LMS. Below is a video tutorial for the new LMS - make sure you watch it and you'll be ready to go in no time. You can contact the Sunset Country office for help using the system.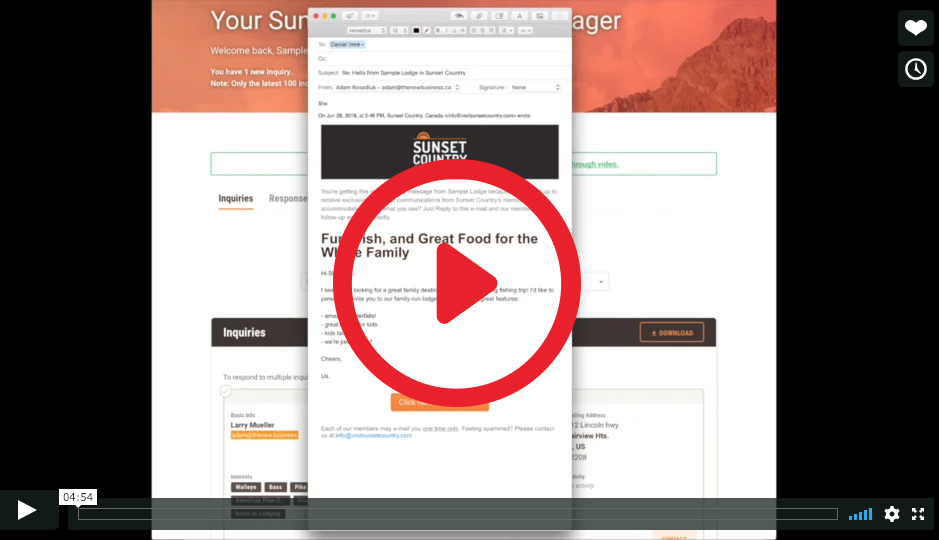 Log-in visitsunsetcountry.com/user to try it now.