We can help! Below is a list of frequently asked questions. If you have further questions about traveling in Sunset Country, please contact us at the Ontario's Sunset Country Travel Association. We can be reached toll-free at 1-800-665-7567 or locally at 807-468-5853 or you can email your questions. Each community has their own FAQ page in case you need more detailed information such as directions or exact weather conditions.
Location
Where is Sunset Country?
Sunset Country is located in the Northwest corner of Ontario, Canada. We are bordered to the south by Minnesota and to the west by Manitoba. Our eastern border is just west of Thunder Bay.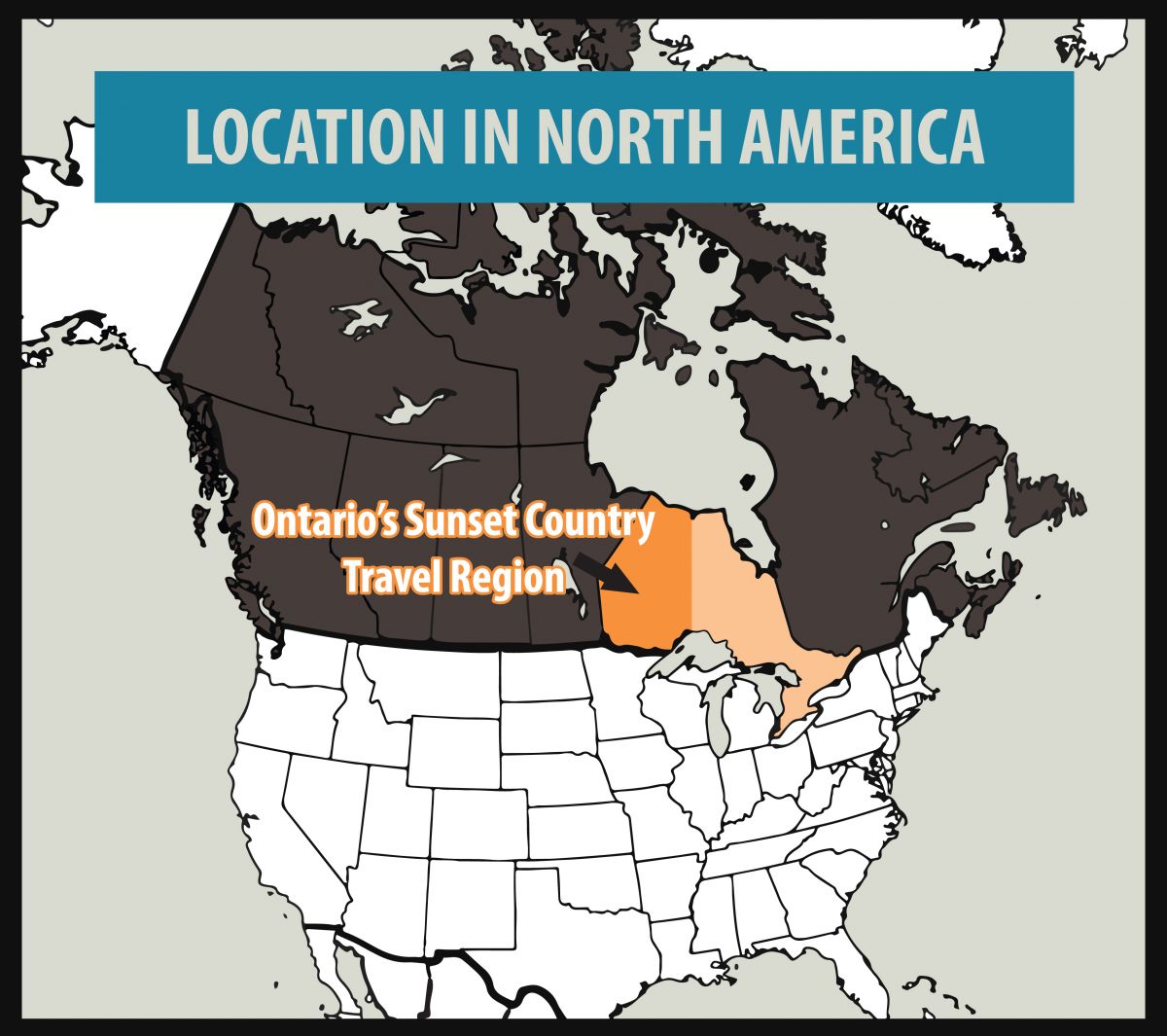 How do I get to Sunset Country?
Sunset Country is less than a day's drive from many US Midwest cities. For those traveling in their own RV or automobile from the United States, the major border access points from the U.S. are at International Falls, MN via US Highways 53 or 71, at Baudette, MN via Minnesota State Highway 11, and at Pigeon River via Minnesota State Highway 61. All main highways and roads in Sunset Country are paved.
If you are flying, you can fly into Thunder Bay, ON, International Falls, MN or Winnipeg, MB. From there you can rent a car or van or use Ontario Northland Bus Service or Kasper Transportation or fly Bearskin Airlines to various communities within Sunset Country. Charter and personal flights can land at many of the communities in Northwestern Ontario. Visit the CANPASS website for information on Canadian customs and immigration.
Your tourist outfitter should be able to give you suggestions on the easiest way to their camp from your home city. You could also contact local travel agencies and have them book your flight and travel arrangements.
What are the speed limits in Ontario?
Speed limits are posted in kilometers. Speed limits on the main highways in the area are usually 90 km/hour or 55 mph. Please follow the posted speed limits and watch for wildlife.
25 mph = 40 km/hr
35 mph = 57 km/hr
50 mph = 80 km/hr
55 mph = 90 km/hr
62 mph = 100 km/hr
Where can I get maps of the area?
You can order a Free Travel Guide & Map of Sunset Country, which has a large pull-out map that shows all of Northwest Ontario (Accommodations & Lodging are dotted on the area map). You can purchase maps of the area at www.canadamapsales.com. Hydrographic charts, angling maps, and topographical maps are available. You can also phone Canada Map Sales 1-877-627-7226 to find out which maps are available for the lakes you will be visiting.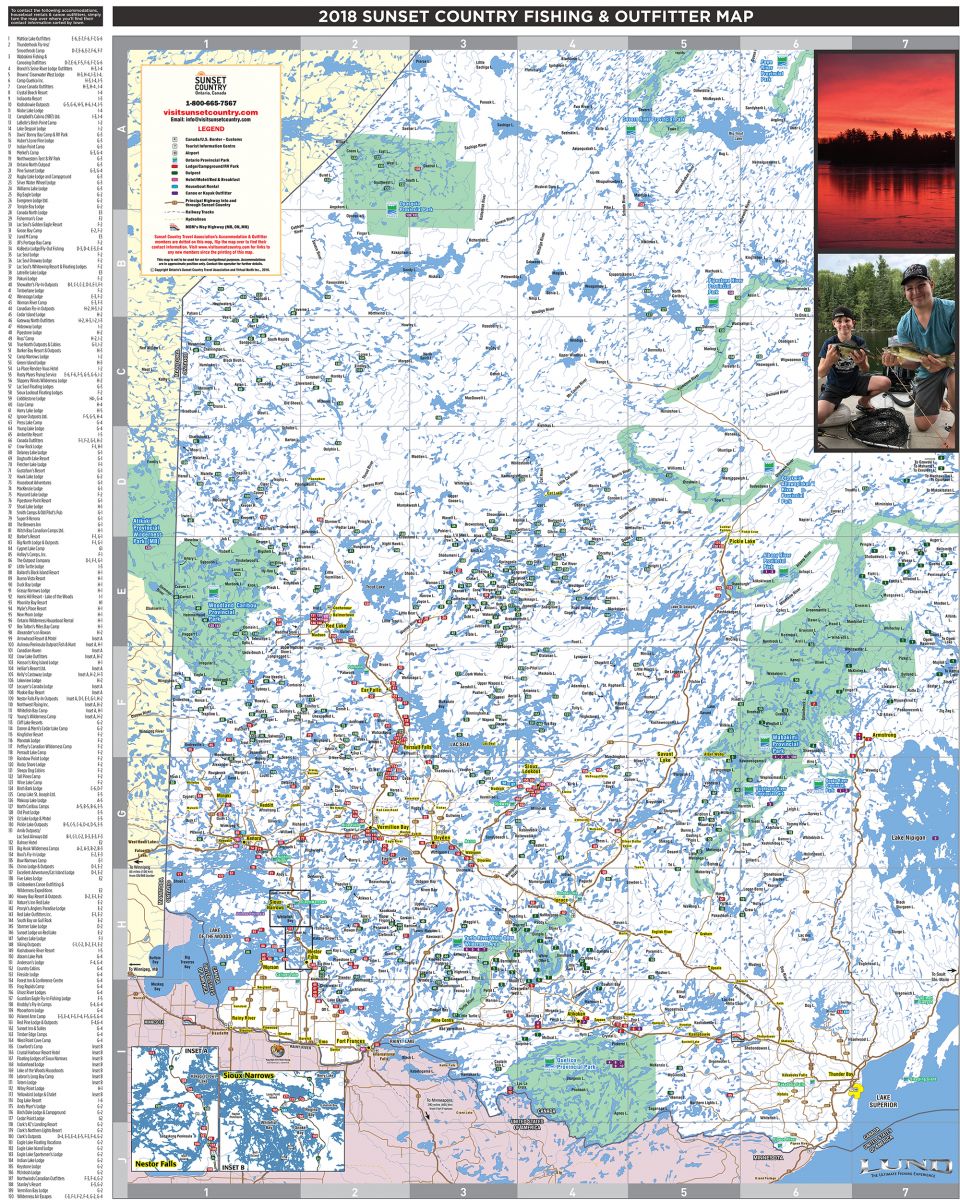 Customs
What do I need to cross the US/Canada border?
U.S. citizens driving from the United States into Canada:
The United States Government requires all of its citizens 16 years or older to have either a passport book or passport card. For more information on the difference between the passport book and passport card, visit the US Passport Card website. U.S. citizen children under the age of 16 arriving by land may present an original or certified copy of their birth certificate, Consular Report of Birth Abroad, or Certificate of Citizenship.
Youths under 18 traveling alone or with someone other than their parents, should also have a letter from a parent or legal guardian giving them permission to travel to Canada.
U.S. citizens flying from the United States into Canada:
U.S. citizens and citizens of Canada, Mexico and Bermuda traveling by air between the U.S. and Canada, Mexico, Central and South America, the Caribbean, and Bermuda are required to present a valid passport to enter (or re-enter) the U.S. regardless of age.
What are Covid Restrictions/Requirements for Visiting Canada?
Covid restrictions are constantly changing. Please continue to monitor this website on entering Canada. You will need to download the ArriveCAN App and fill it in within 72 hours of entering Canada. Please make sure it is the latest version of the app. As of May 2022, all travelers must be vaccinated against Covid-19 to enter Canada.
Can I bring my pet?
For U.S. visitors, all pets must be accompanied by their owners when entering Canada. Owners of cats and dogs must bring a certificate issued by a licensed American or Canadian veterinarian clearly identifying the pet and certifying that it has been vaccinated against rabies sometime during the previous 36 months. For more information, the Canadian Food Inspection Agency offers basic guidelines for bringing your pet into Canada. Dog food is not allowed into Canada.
What can I bring into Canada?
a reasonable amount of personal effects, food supply, tank of gas
gifts not exceeding $60 Cdn for a friend/relative in Canada duty-free. This does not include tobacco products, alcoholic beverages or advertising material. Gifts more than $60 Cdn are subject to duty.
up to 40 ozs (1.14 litres) of liquor or 1.5 litres (53 imperial ounces) of wine or 24x12 oz bottles or cans of beer (up to 8.5 litres)*
up to 1 carton of cigarettes (200 cigarettes) and 50 cigars and 200 grams (7 ounces) of tobacco and 200 tobacco sticks*
* You must be at least 19 years of age to import these goods into Ontario. Any additional alcoholic beverages or tobacco products other than those listed above are subject to duty.
For more information, call the Customs Border Services Agency (CSBA) at 1-800-461-9999 (within Canada) or 807-274-3655 or 204-983-3500 or visit the CSBA online.
What type of bait can I bring into Ontario?
It is illegal to bring live fish, crayfish or salamanders into Ontario for use as bait. It is also illegal to bring live leeches into Ontario for use as bait. In 2022, four Bait Management Zones were created and you cannot transport bait into another zone. Most of Northwest Ontario is in the Northwestern BMZ. You can see a map of the BMZs here. For more information, you can download a copy of the Ontario Fishing Regulations from the Ministry of Natural Resources.
What can't I bring into Canada?
You can't bring the bait listed above into Ontario. You cannot bring most firearms/weapons into Canada (except for hunting). Go to the Canada Border Service Agency for further information on bringing a firearm into Canada or call 1-800-731-4000. You cannot bring stun guns, mace or any other spray to be used against humans.
Are there lineups at the border crossings?
During the summer months, there may be some line-ups at the border. Saturdays are usually the busiest. You can check online to see if the border where you are crossing has border wait times. They are updated hourly.
What is the US/Canadian exchange rate?
You can easily find out the current exchange rate with the Universal Currency Converter.
Weather
What is the current or average temperature in Sunset Country?
Here's the average temperature in Northwestern Ontario. For current weather in the city or town you are planning to visit, please go to the FAQs page under each town's home page or go to the Weather Network's website.
Fishing & Hunting Trips
Where can I buy a fishing license?
Fishing licenses are available at some of the lodges and resorts in the area. Many tackle and bait shops and gas stations also sell fishing licenses. Not all lodging sells fishing licenses so please check with the resort you have reservations with ahead of time. It is really easy now to get a fishing license online. You can also buy your fishing license at the ServiceOntario office in the community you plan to visit. Click here for a list of all the ServiceOntario offices in Ontario.
How much is a fishing license?
Fishing licenses are divided into two categories: Residents and Non-Residents.
Residents are considered residents of Canada and are required to have a valid Outdoors Card. Residents can purchase either a Sport Fishing License or a Conservation Fishing License. A Conservation Fishing License is for those that like to catch & release or perhaps have a few fish for a shore lunch or to bring home. The limit of fish is generally lower than that of a Sport Fishing License. You can purchase licenses that last three years, one year, or one day. If you are a resident under 18 or older than 65, you don't require a fishing license.
Non Residents are considered to be anyone from outside of Canada. Non-Residents can purchase either a Sport Fishing License or a Conservation Fishing License for terms of either one year or seven days. Non-residents who are under 18 years of age may fish without a license if accompanied by an adult who has a recreational fishing license. Any fish caught are part of the catch & possession limit of the adult who holds the license. Non-residents under 18 may purchase a license and any fish caught apply to the catch & possession limits of that license.
To find out the current rates for your fishing license, please check with the Ontario Ministry of Natural Resources. There are separate Non-resident Fishing Licence Options and Residents of Canada Fishing Licence Options.
Who needs an Ontario Outdoors Card?
An Outdoors Card is a plastic, wallet-sized identification card to which your Ontario fishing license tag is affixed. It acts as a durable carrier for your license tag for three calendar years. Most Canadian residents need an Ontario-issued Outdoors Card and fishing license tag to fish in Ontario if they are at least 18 years old but have not reached their 65th birthday. You can purchase an Outdoors Card where you buy your license or you can get an application mailed to you by calling 1-800-387-7011. You now can also renew your Outdoor Card online
What species of fish can I go fishing for?
You can fish for a multitude of fish species. The main fish species in Northwest Ontario are: walleye, northern pike, muskie, smallmouth and largemouth bass, lake trout, brook trout, crappie, perch and whitefish.
What animals can I hunt?
You can hunt for a variety of animals including black bear, moose, whitetail deer, ducks and waterfowl, grouse and wolves.
Accommodations
What is an outpost cabin?
Outpost cabins are generally single housekeeping cabins located on remote fly-in or boat-in only access lakes. Just imagine being the only cabin on a secluded lake in the Canadian Wilderness.
What is a housekeeping cottage?
A housekeeping cabin is a cabin for rent that has all the facilities you need for your fishing trip. The cottages are equipped with kitchens so you can fix your own meals and keep your own schedule. Generally, all you need to bring is food and towels. Please check with your outfitter so you know exactly what to bring.
What is an American Plan Package?
An American Plan Package is more of an all-inclusive resort or lodge. They generally will serve you a full breakfast and delicious dinner as well as either a shore lunch package or box lunch. Many plans included boat rentals and guide service as well.
What is a Modified American Plan or European Plan Package?
Modified or European Plans generally include an evening meal. If you're tired of cooking, some of the lodges that have both Housekeeping and American Plan Packages will, with advanced notice, permit Housekeeping customers to have a meal or two in the lodge.
What's the difference between "Drive-in", "Fly-in" and "Boat-in"?
Drive-in means that there is road access to the accommodation. Fly-in means that you need to fly into the resort or outpost. There are no roads leading to the accommodation. Boat-in means that the resort or outpost is on an island or a remote location that has no road access but can be accessed by boat.
How can I get more information on certain lodges or accommodations?
To get more information about lodging in Sunset Country, fill out our inquiry form to order your FREE Travel Guide & Map. The pullout area map shows where all of the operators in the area are located. The Travel Guide also has a complete directory of what each accommodation offers as well as their contact information. If you would like more information such as prices or brochures from our members, when filling out the inquiry form, check the box that requests a follow-up from our members. You will then also receive brochures or emails from the tourist operators. Be specific in what you are looking for in the form - i.e. Canoe Outfitting or American Plan or Fly-in, that way you should receive responses from the operators that offer what you are looking for.
I know what lake I want to fish in, how do I find out what outfitters are on that lake?
Go to our lakes page, where you will find a list of great fishing lakes. Click on the lake you want to fish and you'll find out which tourist operators are on that lake.
Any other questions about your trip to Sunset Country, Ontario, please email info@visitsunsetcountry.com